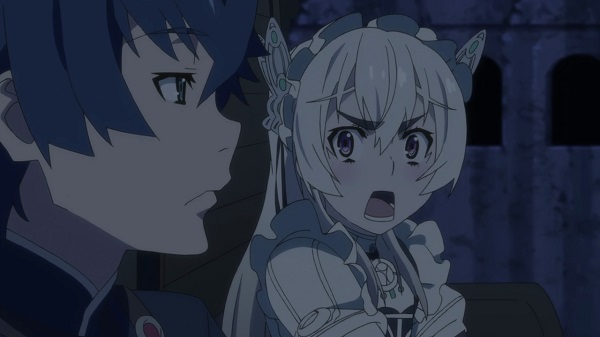 Hitsugi no Chaika was a major surprise for me during the last anime season so it also came as quite a surprise when I realized that it had not been picked up for release in the West. Well that issue has been rectified this weekend at Anime Expo as Sentai Filmworks revealed that not only have they picked up the license for Hitsugi no Chaika in the West, but also seven different anime titles that are going to be airing this anime season.
The titles that have been licensed by Sentai Filmworks, include the brutal anime Akame ga Kill!, Ao Haru Ride, Shirogane no Ishi Argevollen, Glasslip, Invaders of the Rokujyoma!?, Rail Wars!, and Sabagebu! -Survival Game Club!-. Many of these anime series have already started airing this season while some will be starting within a few days. For more details about each of these summer series, Sentai Filmworks has provided a summary for each show that can be found below:
Akame ga Kill!
Tatsumi, an eager young fighter who dreams of glory, arrives in the Imperial Capital in hopes of earning money for his impoverished village. His dreams are soon squashed when his attempts at recruitment are turned down, and his money is stolen by a curvaceous con woman. While stranded in the streets, Tatsumi attracts the attention of a wealthy family that offers to take him in. Just when it seems like things are back on track, Tatsumi's would-be benefactors are attacked by a group of ruthless killers known as Night Raid. But the brutal assault reveals a darker truth that stretches all the way to the top, for beneath the thin veneer of the Capital lies a teeming hive of corruption that engulfs the whole city. With nowhere else to turn, Tatsumi joins the Night Raid to help put a stop to the wicked ways of the Capital once and for all.
Shirogane no Ishi Argevollen
It is said that war does not determine who is right – only who is left. The countries of Arandas and Ingelmia have been long embroiled in battle, with countless soldiers on each side falling in the line of duty. The sounds of bombs and gunfire have become background noise to day-to-day life, and it seems as if peace will never come. Adding to the terror are monstrous machines piloted by ruthless, battle-hardened soldiers. Destruction and devastation seem to be inevitable, unless, of course, Susumu Tokimune, the justice-seeking pilot of the ARGEVOLLEN, has anything to say about it. After Susumu and his comrades in arms save a girl named Jamie Hazaford from an enemy attack, they find themselves more determined than ever to turn the tides. But will determination and teamwork be enough? And even with the troops coming together to fight for a common goal, is hope still lost?
Ao Haru Ride
Meek middle school student Yoshioka Futaba has always had a complicated relationship with boys. Considering them loud and violent, Futaba avoids them at all costs. But when the gentle Tanaka catches her eye, Futaba finds herself quickly falling in love. However, a misunderstanding causes Futaba's first love to be quickly crushed. Before Futaba can clear the air, Tanaka disappears from school, and it seems that Futaba's chance has slipped through her fingers for good. Now in her first year of high school, Futaba is looking to start off with a clean slate by undergoing a major personality makeover. Once cute and timid, Futaba now actively makes herself as unattractive as possible in an effort to avoid being ostracized by her female peers once again. But a run-in with a familiar face brings up old memories and the chance to right past wrongs. Second chances don't come often, but will Futaba be able to get her feelings across once and for all?
Glasslip
Senior year is a tumultuous time in every student's life, filled with tearful ends, and fresh beginnings. With their final year of high school underway, small-town girl Toko Fukami and her friends are about to be thrown into the real world. Where most graduates are ready to leave their lives behind and blaze their own trails, Toko has always had just one dream: to take over her family-run glassmaking business. But the arrival of unusual transfer student Kakeru Okikura shatters Toko's formerly rose-colored life, when he begins to claim that he can hear a voice that predicts the future. And this voice has led him to none other than Toko! Kakeru's arrival will not only change Toko's life, but the lives of her friends as well, and something once broken, can never be perfect again.
Invaders of the Rokujyoma!?
When high schooler Koutaro Satomi stumbles upon a suspiciously cheap apartment, he thinks he's found quite the sweet deal. Although it's a little small, the great location and low rent more than make up for it. But Koutaro's bargain soon turns out to be more than he's bargained for when he discovers that his apartment is haunted by an adorable girl ghost! This sweet-faced specter wants him out, and a battle of the wills quickly ensues. But just when Koutaro thinks he's gained the upper hand, he's interrupted by the arrival of even more unwanted houseguests who turn his home into a battlefield. Will Koutaro be able to take back control of his apartment, or will these strange new females stage a hostile takeover? What's certain is Koutaro's life is about to give a brand new meaning to the phrase "if it's too good to be true, then it DEFINITELY is!"
Rail Wars!
In a world parallel to our own, Japan's national train system is united under the illustrious Japanese National Railways. High schooler Naoto Takayama is one of many who dreams of someday becoming a driver at the JNR. When Naoto manages to snag a job as a trainee for the Railways Security Force, he thinks he's finally on the fast-track to success. However, Naoto's expectations are quickly derailed when he finds that he has trouble telling who's crazier- his coworkers or the criminals he's supposed to catch! But when RJ, a shadowy group with sinister motives, appears to seize control of the JNR, it's up to Naoto and his motley crew to get things back on track. Will Naoto and the rest of the Railways Security Force be able to pull the brakes on RJ's scheme, or will it be the end of the line not only for their team, but the entire JNR as well?
Sagebu! -Survival Game Club-
Life can be hard… especially when it's your first day at a new school. Will people like you? What do you wear? It's all up in the air and expectations are high to make the right choices. Above all, you certainly don't want it to be boring and monotonous. And that's exactly where we find transfer student, Momoka Sonokawa. To make matters worse, she gets harassed on the train on her way to school. So, imagine Momoka's delight when a dashing senior from Aogiri High unexpectedly saves her from the throes of a creepy old man. Her hero has brains, brawn and a Beretta! This, at least, makes the sting of being forced to join the school's Survival Game Club all the more easy when her hero fatefully turns out to be Miou Ootori, its President! What might sound senseless, impractical, and a little insane compared to the "normal clubs" also sounds like an exhilarating romp as these babes with bullets learn rappelling and paramilitary training in what could be called Survival of the Misses! Prep yourselves as Momoka Sonokawa must learn the beauty of battle from a bevy of beauties as action and shoujo collide as the girls of Aogiri High School come out with guns blazing in Sabagebu! – Survival Game Club -!