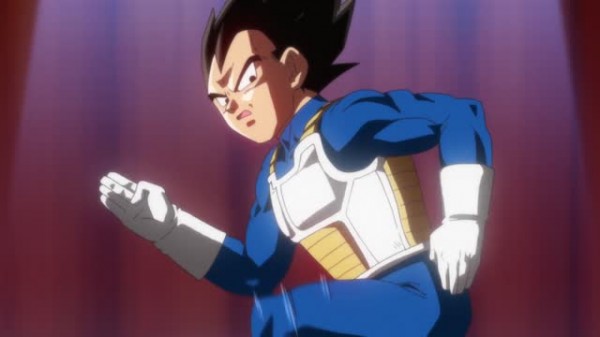 The infamous BINGO! scene from Dragon Ball Z: Battle of Gods has now been released in English by Funimation for your viewing pleasure. The scene pictures a very out of character Vegeta singing for his life to try and appease the God of Destruction and stop him from destroying Bulma's Party and The Earth. It's not often you see The Prince of  Saiyans acting so foolish but that just goes to show you the fear that Beerus' overwhelming power can impose. You can view the scene for yourself below.
A lot of people have commented on Chris Sabat's performance as Vegeta saying it sounds a bit off compared to his original work, some fans even took to Sabat's Twitter account as a way to get their message across. Chris responded saying:
To people who think I changed my Vegeta voice, remember it was 15 years since DBZ was dubbed. Vegeta's voice has matured…literally.

— Christopher Sabat (@VoiceOfVegeta) July 18, 2014
So unfortunately if you don't like the voice it looks like you will have to adjust as it is here to stay. Personally I will wait until I hear a scene where Vegeta isn't in such a bizarre situation before I judge Sabat's performance as the actor would have obviously been out of his comfort zone for the character. Let us know what you think in the comments below. Dragon Ball Z: Battle of Gods is currently screening in English in select theatres in the United States. Check out our previous article for the English trailer.