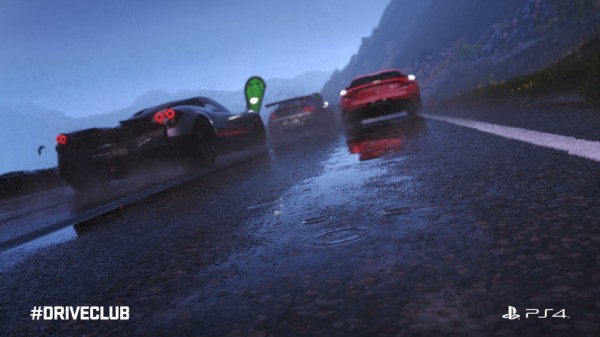 PS4 exclusive Driveclub has been constantly delayed since it was originally planned to be a launch title for Sony's next gen console. It seems those delays may have been worth it, as a lot of work has gone into developing the graphics to make this one of the most realistic looking racers ever created. The new gameplay released today showcases driving through rain and wet environments, and the amount of detail from the droplets on the hood of the car to the shimmer on the track just looks incredible. Weather will be fully dynamic in this game and will include light drizzle all the way to snowstorm like blizzards with next to zero visibility. Players will be able to fully customise the weather and make unique challenges for their friends to participate in. Unfortunately this dynamic weather system won't be implemented into the game until post launch, meaning you will have to download a free patch for it down the track.
Game Director Alex Perkins had this to say:
"You can expect it to change dynamically and unpredictably while you race — because we've designed it to be just like real weather systems," said Perkins. "Lots of things play into this, like elevation, wind speed and temperature."
You can check out our hands on with Driveclub by following the link. The game is set for an October 7th release pending another delay. Let us know in the comments below what you think about this new video.