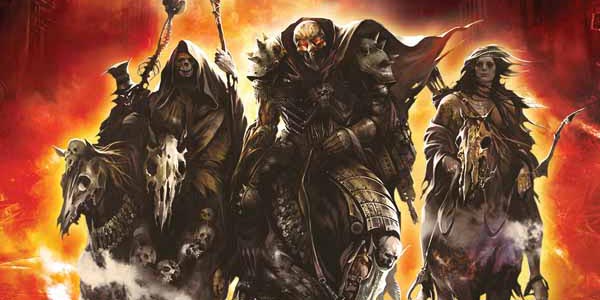 Time to lock the doors and bar the windows, the end of the world is upon us! Later this month shows the release of the hard-copy edition of the epic Four Horsemen of the Apocalypse from the guys over at Titan Comics. For those of you new to the series, here is the synopsis for the book:
Raised by the ancient Order of Solomon, Adam Cahill is one of a rare handful of highly trained warriors bound by bloodline to guard the Seven Holy Seals that contain the End of Days.

But ageless forces have conspired towards a prophetic event foretold by numerous cultures and multiple religions… and when that cryptic date arrives, they strike against the order without mercy!
Announced late last year, this is the first time that you can get your hands on Michael Mendheim and Simon Bisley's complete epic. Not only that, but the hard-bound collection comes with brand new content like original covers, posters and concept art.
You can grab your copy of The Four Horsemen of the Apocalypse later of this month, so make sure you pick up a copy and stay tuned to Capsule Computers for all the comic book news as it becomes available.