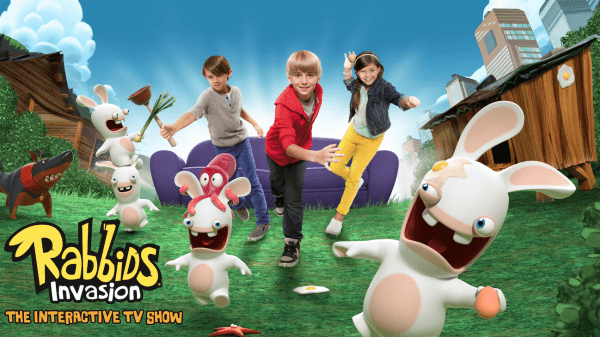 If you recall back to about midway through last year you may remember news regarding Ubisoft's release of a brand-new kids TV show starring the ferocious and flamboyant "Rabbids" who, as you may know, began as minor characters of the "Rayman" series of video games but in recent times have become stars of their own. The show – titled "Rabbids Invasion" – took audience members on some wild rides as they joined the little troublemakers every week for new adventures.
It's popularity level rose to great heights and that seems to have sparked something within Ubisoft, once again, who have just announced they're next "Rabbids" video game title; "Rabbids Invasion: The Interactive TV Show". Now while the name doesn't exactly make it sound like a video game, Ubisoft have assured audiences it is exactly that. Players/watchers will have their choice of twenty "Rabbids Invasion" episodes, within  each of the episodes are a whole bunch of minigames that players can participate in, all of which actually tie in with the show.
"The Rabbids Invasion TV series is very popular amongst kids and their families so we wanted to merge the success of this TV show with the studio's expertise in creating fun and original gaming experiences…With Rabbids Invasion: The Interactive TV Show, we're introducing an innovative way that people can interact with their favourite characters. This is not only TV you can watch, but TV you can play."- Xavier Manzanares, Brand Producer.
This Ubisoft Barcelona, Paris and Casablanca collaboration project will allow for players to jump straight into the quirky action of a "Rabbids Invasion" episode. This is the next big thing for the "Raving Rabbids" series and it couldn't be more exciting! Ubisoft have said that the game will be getting a release in November of this year but no specific date was mentioned.
That's fine though because I'm sure we'll be getting word on that in the near future. "Rabbids Invasion: The Interactive TV Show" will be getting a release on the Xbox One, Xbox 360 and PlayStation 4 so, parents, start saving up some of that sweet cash because you know your kids are going to want to get in on this!