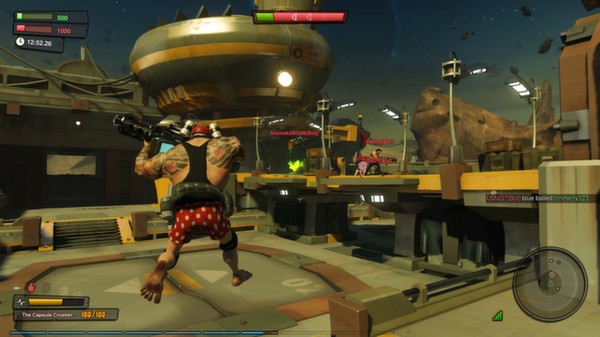 Yet another great game has been announced for the PlayStation 4 that will provide gamers with hours of blood-stained fun. The creators of the hilariously violent shooter Loadout, Edge of Reality, announced the console release and even rolled out out a new trailer of the game in celebration.
The game already come out on PC at the start of the year and the player based has already rocketed to 3 million players, showing just how entertaining this game is. It is a fast-paced free-to-play shooter that also has billions of weapon combinations. The developers are planning to bring every last one of those weapons to the PlayStation 4 version of the game.
As Rob Cohen, CEO of Edge of Reality, so tastefully puts it:
"There are roughly 10 pints of blood in the human body, meaning that with 3 million players, our game is splattered with over 16 million liters of sanguine goodness ….. We're assuming, of course, that PS4 players have plenty more to offer when they join the fun – both in terms of the camaraderie they'll bring to our community, and the shiny, slippery organs they'll litter across our battlefields."
Cool features of Loadout is its frenetic multi-player gameplay, amazingly deep customization and comedic violence which you can check out in the trailer below. The game will be available as a free-to-play downloadable title on the PlayStation Store, where it will find its way into console gamers' hearts, and out their backs in glorious exit wounds.