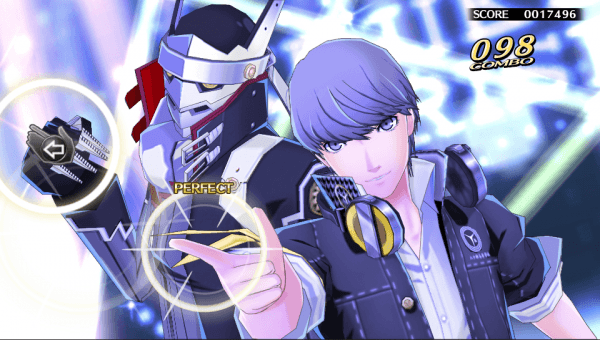 ATLUS – the Japanese video game juggernaut famous for the "Shin Megami Tensei" series alongside games like "Catherine" and "Dragon's Crown" – have today released their video game showcase lineup for the 2014 Electronic Entertainment Expo or, as it is mostly commonly known as; E3. The video game developer, publisher and distributor has a pretty amazing record when it comes to its E3 presence. With visually pleasing booth aesthetics and a constant flow of amazing game releases, it's certainly hard to not give ATLUS the attention it deserves.
This year's lineup is just as good if not better than what we've seen in the past and it is as follows:
Abyss Odyssey (PS3, 360, PC)
Citizens of Earth (PS4, Wii U, PC, 3DS, PS Vita)
Persona 4 Arena Ultimax (PS3, 360)
Persona 4: Dancing All Night (PS Vita)
Persona Q: Shadow of the Labyrinth (3DS)
Unannounced Third-Party Title (PS4, PS Vita, PC)
The "Persona" franchise is, once again, acting as the "tent-pole" for ATLUS this year with half the list being populated by new games of the series. That's not to say "Abyss Odyssey" and "Citizens Of Earth" isn't going to get as much of the spotlight as the others though. ATLUS also revealed the design for this year's badge inserts. Last year it was "Dragon's Crown" who snagged it's spot on the insert and the year before that it was "Catherine" but this year it seems as though ATLUS have decided to go "all out" with their "Persona" promotions because occupying both the front and the back of the insert is our friend Teddie.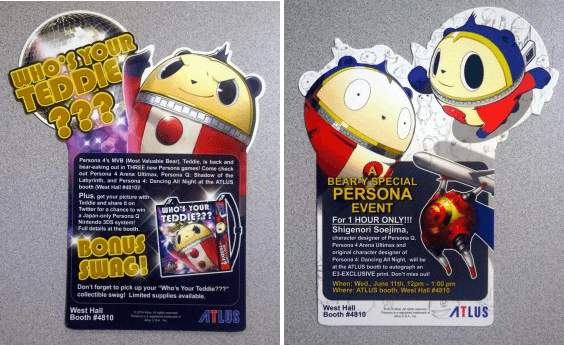 Yes, the mascot of "Persona 4" will be plastered across this year's insert with the front promoting "Persona 4: Dancing All Night" and the back promoting "Persona Q: Shadow Of The Labyrinth".  Six brilliant games and another to be announced at a later date. ATLUS has, once again, brought out the big guns to make as massive an impact as possible and, if previous years are anything to go by, that's exactly what is going to happen.