 Earlier today a video was uploaded on the Cinemassacre YouTube page revealing the screening times for the Angry Video Game Nerd Movie. 13 Screenings have been set for the film throughout the US with the premiere being shown at the Egyptian Theater in Hollywood on the 21st of July, the rest of the screenings will be throughout July and August this year.
Creator of the nerd and director of the movie, James Rolfe, began working on the AVGN film back in 2011, a live trailer event was held during the end of 2012 and was uploaded on the YouTube page. Since then Rolfe has made video updates for his fans in regards to the movies completion, his latest video Dessert Bus ends with the line "I need to do something bigger, something to top everything I've already done, but how do I do that?" with a slow zoom and an angry nod to confirm the movie is ever so closer.
Tickets for the premier, as well as five other screenings have sold out, check out the image below for the available dates. More dates plan to be added and the movie is planned for DVD and digital download at the end of the year for all nerd fans outside America.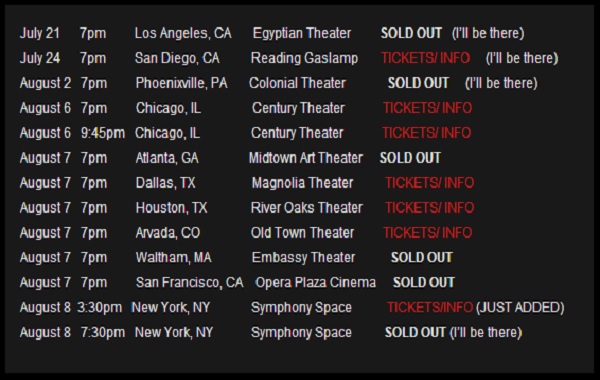 The Angry Video Game Nerd is a character and popular internet show, the series officially started in 2004 on the Cinemassacre website however the first episode was uploaded to YouTube in 2006. The nerd is a retro video game reviewer who mainly focuses on old Nintendo games; common themes that appear in most of the 119 episodes include his foul language, creative ways of destroying games and drinking the beer Rolling Rock.
Are you a nerd fan? Are you excited for the upcoming movie? Let us know by leaving a comment down below.