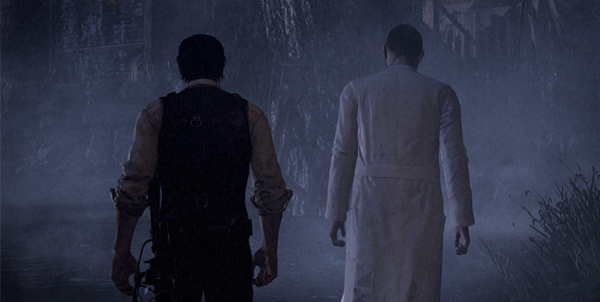 Horror games were the once proud outliers in the gaming industry, filling a niche market of fans who wanted to have really natural, emotional responses to their games (and what emotion is more natural than fear). They provided a sense of immersion and rich storytelling that only the frightening and macabre could muster. Games like Resident Evil or Silent Hill provided an experience that was unmatched for their time. Clunky controls and a feeling of helplessness made us as gamers really come alive. Sadly, as the games industry has gotten bigger and bigger, these franchises (and many like them) have become watered down. The horror has been taken out of "survival horror" in favour of more mass-market appeal in the form of action shooters. With games like Dead Space 3, and Resident Evil 6 sitting on store shelves as a sign of what the horror genre has become, it looked like all hope was lost for those of us who want to feel weak, to feel challenged and to feel scared… until now.
The Evil Within from Bethesda is the brain child of one Shinji Mikami – you know, the guy who created Resident Evil and is basically the king of the horror genre. A lot of talk and a lot of hype has already surrounded this game, but the sceptics have to ask – is it worth it? Well, I recently sat down with the game's 4th and 8th chapters on Xbox One and I can say; "Yes, yes it is."
Time to deal with the elephant in the room – this game plays a LOT like Resident Evil 4. The controls, the camera angles and the actions that the protagonist can do all closely mimic the similar stylings from Mikami's last great outing. The main difference is that while Resident Evil 4 began to steer the survival horror genre to its current action-heavy state, The Evil Within brings it right back to where it should be. It really feels like a true spiritual successor to RE4, bringing with it all of the greatness from that game and combining it with some of the best features of other horror games both past and present.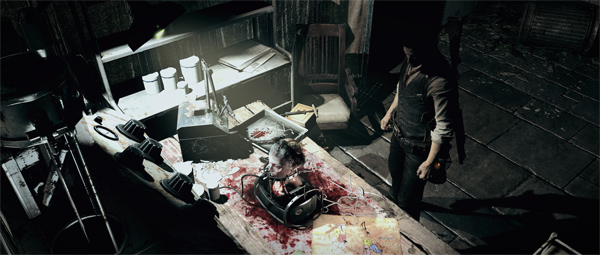 The Evil Within feels like a mix between Resident Evil, Silent Hill, Amnesia and The Last of Us. I don't mean that it feels like a hodgepodge mixup of the genre, but that it knows what works for the fans and presents it to us in a well-balanced way. Resident Evil's mechanics, with Silent Hill's nightmarish world combined with Amnesia's running and hiding mechanic, and The Last of Us's creeping and sneaking make for a game that is every horror fan's dream.
Starting the game at Chapter 4 meant I had little to no context about the story or plot behind why our detective is facing down brutal, and honestly terrifying creatures. Armed with only a pistol, a shotgun and a crossbow he sets off trying to find a lost patient of his doctor companion. This looks like it will be a large chunk of the game's plot, as I was still chasing down this escaped patient even through Chapter 8.
Anyway, back to chapter 4 which was set in a small, desolate and decrepid little shanty-town of sorts. There were a few buildings that looked like they were falling apart at the seams, and the soft wind blowing made me feel like I was there. This is the kind of immersion that has been lacking from many horror games lately and I am absolutely thrilled to see it back.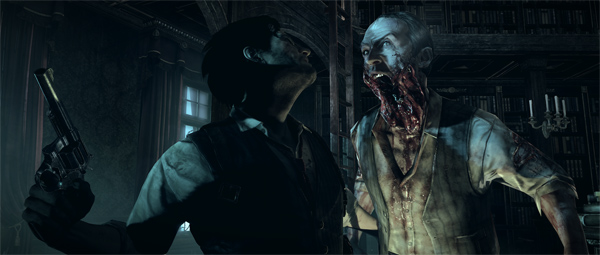 Anyone who has played RE4 will feel right at home controlling this game. Aside from the weapons menu, everything is basically identical. While the controls are very similar, some new toys have been added in – you can now crouch and sneak up on enemies in order to kill them in one hit, as well as staying invisible or out of sight as long as possible. You also carry a lamp with you that when illuminated will help you see down dark corridors, but also makes you a massive target for the monsters who want nothing more than to rip you apart.
Lets stop and talk about the monsters for a second here, because they are truly something. They look like people that have been brutally tortured. Spikes shoved through their bodies, barbed wire around their faces and a whole other array of grotesque and over the top violent imagery follow this game. If you are squeamish, then you might want to avoid this one but if you can handle the gore than oh baby will you be in for a treat.
The AI is great too. Enemies react to sight and sound which makes them about 1000x more efficient killers than your typical zombie. Not only that but the AI used is really impressive. I tried to lure an enemy into a trap, only to have him avoid it at all costs. No matter where I moved to, he would always come at me the quickest way possible, even if it meant backtracking from where he was.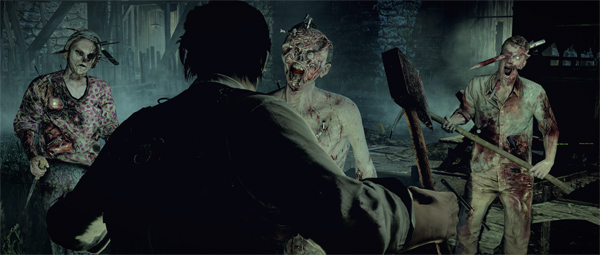 Enemies are also absolute bullet sponges – able to take almost entire clips of your guns and still coming strong. Fire is the most efficient way of killing your enemies, but your means of lighting them on fire is extremely limited. As is your ammunition and healing items. So to recap – you have enemies that don't go down and very limited means to keep them down anyway. The sense of helplessness is what makes horror games so enticing. We loved Pyramid Head as an antagonist because we know we can't beat him, the Nemesis was a behemoth that makes us run for the hills and now we are in an environment that is filled to the brim with lethal enemies.
The enemies are so lethal in fact that more than one or two in a room will likely cause certain death for the player. One section of the game has you entering a room that is half-flooded and surrounded with traps. Attempting to leave the room spawns eight or nine gruesome foes to tear you down. With your limited resources vs your nearly unstoppable horde, utilising the traps around the room (things like trip-wires, proximity mines and arrow traps) are imperative. Planning and coordination give a unique feel to the game as opposed to just running in and gunning down your foes.
The climax of Chapter 4 introduces us to an enemy that many of you will have seen in the trailers. She has multiple arms and is immune to bullet fire. Yep, you read that correctly. This monster will scuttle along the floor at you and cannot be shot at. You are forced to run or else be caught and have your journey end right there. Long, narrow hallways and half-opened doors really help create the feeling of danger and even trigger a bit of claustrophobia during this segment. I managed to escape, but I can't help but wonder what the rest of the game holds in store for that particular beast.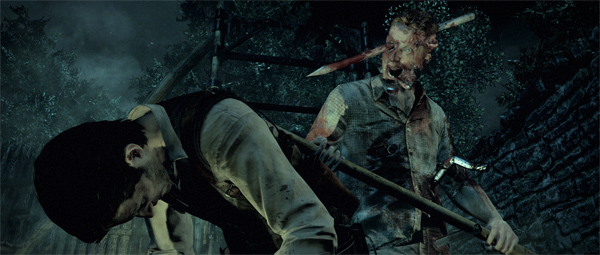 While Chapter 4 gave us a look at how the game's action sequences play out. Chapter 8 showed us a whole different side – Puzzles. It has been a long time since a horror game really used puzzles as a key element in its design, and it is another welcome return. Chapter 8 puts you in a old, creepy mansion (that looks surprisingly like the Spencer Mansion from Resident Evil) and has you solving three sickening puzzles involving decapitated (yet still living) heads. You have to place the probe into the correct section of the exposed brain to unlock the door leading out of the building.
To make matters worse, you are also being stalked by this mysterious figure in a tattered robe who I later found out goes by Ruvik. At random intervals a blue shockwave hits the screen, and suddenly everything turns greyscale. Then at the far end of the room, Ruvik will round a corner and slowly skulk towards you. Shooting him yields nothing so you are forced to run. You are able to hide under beds or inside wardrobes (a la Amnesia or Silent Hill: Shattered Memories) in hopes that you aren't spotted. I was holding my breath and my heart was beating fast when I was hiding under a bed and the mysterious figure's feet were inches from my face. I didn't know what was about to happen and I was hooked to the moment.
I later found out that if this guy touches you, your health IMMEDIATELY drops down to 1% and he disappears, leaving behind an ordinary enemy for you to fell. Talk about stress. The worst (see: best) is that no matter where you go, you aren't safe. Even in the midst of solving one of the game's brain puzzles, the blue shockwave hit and I knew I had to run and come back another time. The Evil Within really keeps you on your toes with little things like this.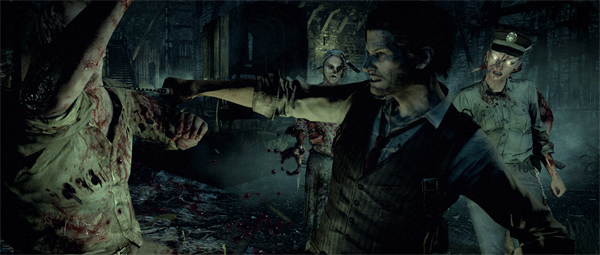 The Evil Within also employs a cool weapon system. Entering your weapon's menu doesn't pause the game, but instead slows time; giving you a moment to think about what you need and when you need it, but not allowing you to breathe. Thinking on the fly is important and planning ahead is absolutely vital. Luckily up to four items can be assigned to a quick-selection menu so that you can gear yourself up for almost any situation.
While your revolver and shotgun are your primary weapons, you also have access to a knife and a really unique crossbow. The Agony Crossbow uses bolts that are either found in-game or crafted from pieces of scrap. Aside from ordinary spear-type bolts, you can also craft exploding, electric, flash and a variety of other projectiles to help clear your path. While not particularly powerful, they all serve their purposes (the explosive bolt is incredible at clearing out a few enemies at a time, especially since it will stick into its initial target).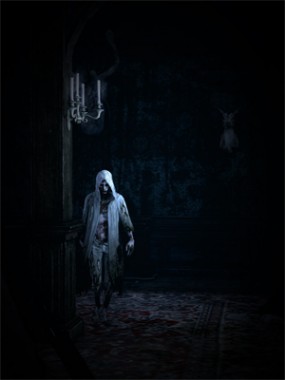 So I will admit that this game is far from perfect. There were more than a few little graphical hiccups and other things that took me out of the experience rather quickly. Things like textures that look like they belong in the PS2 era, and more than a few sections where the enemies appeared to clip in and out of objects. Luckily these all seemed like they will be fixed before the game's official release later this year, so it wouldn't be fair on me to badger it for having textures that appear out of place.
Aside from the graphical hiccups that I encountered, the game was stunning. Not that it was pretty to look at, because everything was falling down around me, but in that it looked real. It looked like I was in the middle of a horror movie with no way out.
The Evil Within is still a few months away, with its release date set for late-October of this year there is still a lot more that will be done to the game before it hits the shelves. What I played though spoke to me as a horror-gamer. This is definitely the game I have been waiting for, for over 10 years. Dark, brooding, puzzling and downright heart-pounding at times, I can't wait to pick this one up in October.