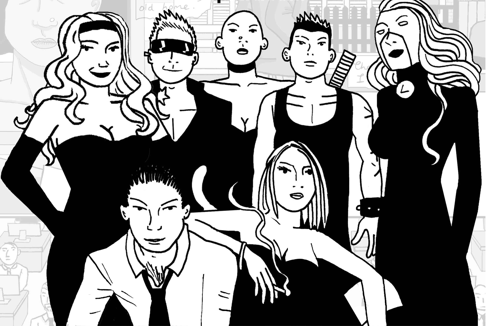 "Titan Comics" are extremely excited to announce that they have just released the third issue of the hit comic book series "Spandex". Having already been released physically years ago, "Titan Comics" and "Comixology" have come together to see that the series gets a second chance in the comic book spotlight, this time digitally. "Spandex" – created, written and illustrated by the highly acclaimed Martin Eden – is a series that revolves around a team of all -gay superheroes, all of which deal with both the evils of their world and the pressures of being a pubic figure.
In the story, a powerful creature named Nadir has taken over the Earth and turned it into a black & white world full of colourless, cheerless zombies… all except for four (full-colour) members of Spandex! As the remaining team are picked off one by one, could this be the end of life as we know it?
The series has gotten a great deal of praise over the years so it only makes sense for "Titan Comics" to bring it back once again for another run. "Spandex" issue three is available now through "Comixology" for $1.99 (click here). "Titan Comics" have provided a number of preview images for the newly re-released issue that you can all check out just below this article so head down there now to check them out and don't forget to hit up our comments section to let us know what you think.