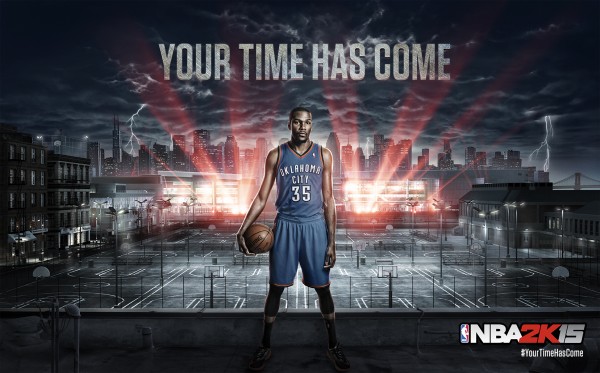 Oklahoma City Thunder's star player Kevin Durant was announced earlier today as the NBA MVP for 2014 and on top of that he has now been confirmed by 2K Games as the cover athlete for the hotly anticipated upcoming game NBA 2K15.
Kevin Durant will follow in the footsteps of legendary players such as Lebron James and Kobe Bryant by featuring on the cover of the prestigious NBA 2K video-game series.
Durant himself commented on the selection saying, "I'm honored to be selected for the cover of NBA 2K, I've been an avid fan and player of NBA 2K since I was a kid, and being selected as the sole cover athlete of NBA 2K15 is an amazing accomplishment at this point of my life. I feel like my time has come."
2K Games revealed what looks to be the cover artwork which of course can be seen in the image above. You can join in on the conversation on twitter with #YourTimeHasCome. Leave your thoughts in the comments section below.