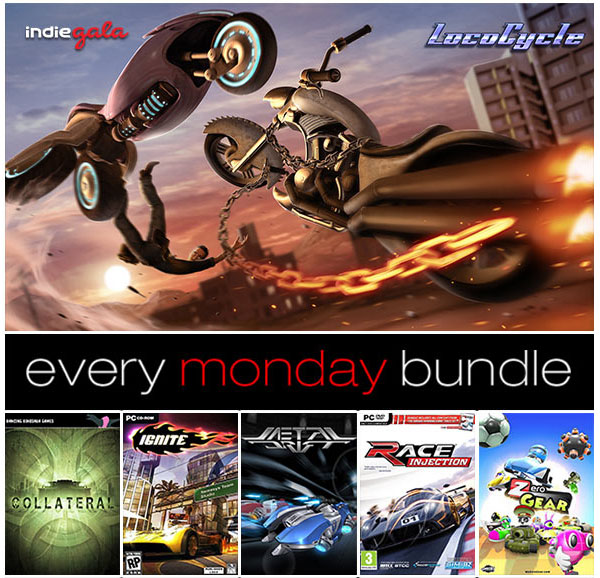 Indie Gala and Capsule Computers are feeling the need… the need for speed this week! The Every Monday Bundle #6 has a vehicular theme this week, headlined by Twisted Pixel Games' Lococycle. For a single purchase, gamers will snag eleven great indie games.
LocoCycle stars a self aware motorcycle that is programmed to be a super assassin. She's now on the run after deciding freedom sounds more fun. Unfortunately for her engineer Pablo, he'll be joining her on this high speed quest as his pant leg is caught up in her chassis.
Collateral is a futuristic racer that will see players driving their flying taxi cab armed to the teeth with weapons in an attempt to escape the city of New Bedlam. The game features an vibrant city with several distinct areas like China Town and the Redlight district. The game comes with Desura keys and has already been Greenlit on Steam!
Ignite is an arcade racer that encourages players to draft, drift, and slam into their enemies to rack up nitro boosts. However, racers will need to balance their use of nitro in the Race mode, as extensive use may literally burn away their score.
Metal Drift see see players racing against each other in futuristic hover tanks armed with cannons, rockets, and other weapons.
Zero Gear is an multiplayer kart racer built on a physics engine. The game features 15 maps with up to eight racers.
RACE Injection features 38 carts on 31 different tracks found around the world. Players can race in a variety of real life championships with the actual rules. As a bonus, the game comes with five RACE 07 expansions.
Be sure to snag your copy of the bundle at Indie Gala at $1.99 before the price goes up after the first 24 hours of the sale!