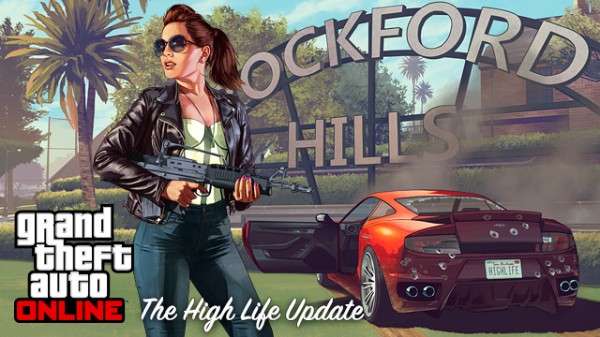 The High Life update for GTA Online is now live, featuring many new additions, such as the ability to own multiple properties at once. Eight new 'Contact' missions, as well as four new Land Race missions, will be available to play later today (by the time you're reading this, it could already be up!)
Going into more detail after providing a basic rundown of the new features, Rockstar have provided the following descriptions:
With the new Mental State stat, we are keeping track of your behavior. If you seem to enjoy attacking pedestrians and terrorizing other players, then your blip will start to turn red on other players' maps. The redder the blip, the more psychotic the player; the whiter the blip, the friendlier they are. The actions you take will have varying effects on your Mental State. For example, killing another player will turn your blip red faster than blowing up a car or taking out a random pedestrian. Killing a player with a white blip will push your Mental State into the red faster than killing more psycho players, while taking out full-on psycho players won't cause your own Mental State stat to increase at all. Mental state also factors into matchmaking – you'll automatically join Freemode sessions containing people more 'compatible' with your play style, and if a red-blipped lunatic does enter your session, you at least have fair warning!
Non-Contact Races are now an option. When you create a Non-Contact race, other racers appear as semi-transparent and collisions with them are disabled (although you'll still be able to collide with non-player traffic, structures and other scenery).
You now have the option to Friend Spectate – if you and a friend are in separate GTA Online sessions you can now choose to spectate that player through the Friends menu.
New player toasts and celebrations: Switch out your salute for jazz hands, a face palm, a slow clap and more. There are also paired toasts for celebrating with a friend, like a backslap, or a solid, manly handshake.
New clothing: It can be hard work finding the perfect ensemble to really make your character stand out, so we've done some of the hard work for you and put together some stylish outfits. Hit the town, dressed to the nines with an array of classy new suit sets available with a pret-a-porter jacket, trousers, suit vest and shoes.
Click through to read Rockstar's official blog post on the update for further details on the missions and vehicles added, along with a list of fixes made to the game experience. Download the update after being prompted upon start-up, Also, keep an eye on Newswire for details on the High Life Weekend Social Club Event starting this Friday, with "in-game bonuses, a special Rockstar-hosted live stream, rare gear sweepstakes and more".