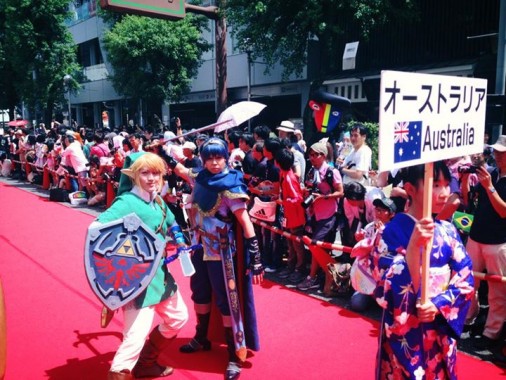 The good people over at "SMASH!" (Sydney Manga and Anime Show) are extremely excited to announce that they have been "sworn in" as the new host of the seventh Australian Preliminary Competitions for the World Cosplay Summit 2015! This particular competition allows for cosplay partners to team up to beat the rest and win themselves a ticket to head straight over to the World Cosplay Summit 2015 which is being held in Japan.
Every single year Aussie cosplayers make their way over to Japan for this the WCS, making a splash while they're there and leaving their mark in the land of the rising sun as world cosplay champions. Though no Aussie has ever won the WCS, we've come close with some of our countries' cosplayers being ranked within the top 10 of the world! As you can imagine "SMASH!" is shaking with anticipation for the upcoming events and so should all of you! This is a big deal for the event and a big deal for cosplay lovers around Sydney!
"SMASH! has always been a platform for fans of Japanese pop-culture to express themselves through the hobby of cosplay…For SMASH! to be involved in a prestigious cosplay event that promotes international exchange through Japanese pop-culture, our partnership with WCS Australia will give fans the chance to be recognised on the national and international cosplay stage". – Ray Elinon, "SMASH!" President
Now if you're interested in entering this grueling but ultimately enjoyable competition, I suggest you first find a partner who will put in just about as much effort if not more effort than yourself, without a passionate partner victory cannot be achieved but I'm sure it wont be too hard to find someone as driven as yourself to join you on your quest for glory.
For more information on the event in general and to actually apply to be a part of the competition sent your emails to "wcs@smash.org.au" and note that, if you are emailing to apply for the comp, make sure to label the email "Expression Of Interest" that way the folks reading the email know exactly what they're going to be looking at.
"Good luck" to all you cosplayers out there and "congratulations" to "SMASH!" for become the new hosts of the seventh Australian Preliminary Competitions for the World Cosplay Summit 2015! It'll be the best one ever!