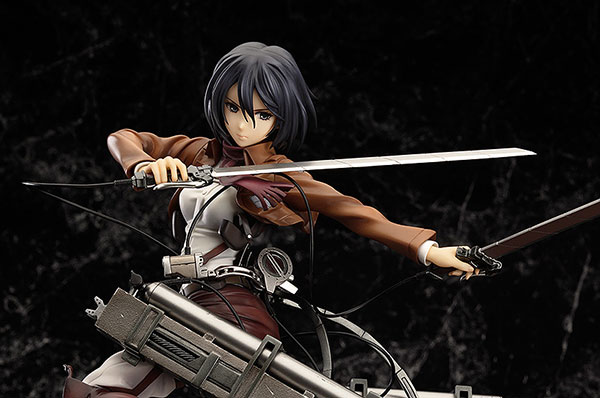 Following up last week's set of pre-orders, Good Smile Company has announced another set of figures, figma, and nendoroids that have been made available for pre-order from their website. This time around we have figures from all over the board but the highlight happens to be from Attack on Titan. Each of these figures is currently available from the company's website and more details on each can be found below.
---
To start with we have a limited edition figure of Mikasa Ackerman from Attack on Titan. This is the "DX Ver." of the figure that is based off of the package art for the second volume of the animated series and comes with a special rooftop base to give this highly detailed scale figure the best look possible. The figure is set to be released in October 2014 and it can be pre-ordered here and is priced at ¥14,800.
---
For those looking to save a little bit but still get in on that detailed 1/8th scale figure of Mikasa Ackerman there is a cheaper option. This version does not come with the rooftop base and instead comes with a different base that is actually not shown. Anyways, this figure is also set to be released in October 2014 and can be pre-ordered here for a price of ¥13,800.
---
Moving away from Attack on Titan we have a nendoroid from the classic series Cardcaptor Sakura. This nendoroid is of Sakura Kinomoto herself and is set to be released in September 2014. This nendoroid comes with three different expressions, her Sealing Wand and a Clow Card. There are also alternate lower body parts to allow her to be placed in different poses, some of which can be seen below, and Keroberos is also included to be displayed by her side. This nendoroid can be pre-ordered here at a price of ¥4,800.
---
The next pre-orderable item is a figma of Ninja Slayer from Phat! Company. Priced at ¥4,320 and set for a release in September 2014 the figure can be pre-ordered here. This highly posable figma comes with a number of different facial expressions and designs, various speech bubbles, and numerous pieces of ninja equipment and special effects that can be added for effect.
---
Our next figma comes from Max Factory and is for Fate/Stay Night's Archer. This figma is set for release in August 2014, is priced at ¥5,000, and can be pre-ordered here. Being a figma, Archer can be placed in a number of different poses and he comes with his dual blades Kanshou and Bakuya as well as his bow Caladbolg II and alternate sword are included alongside a shouting expression that can be used for combat poses.
---
Finally we have a 1/7th scale figure of Gray Fullbuster from Fairy Tail. This figure is sculpted in a confident pose with Gray in prepared to use his 'Ice-Make' magic attack. His shirt is also removable to stay true to his habit of stripping in battle. This figure is set to be released in September 2014 and can be pre-ordered here for a price of ¥9,800.