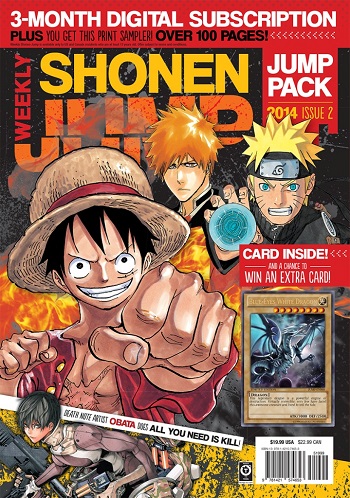 Anyone who has been following Viz Media for any length of time should know that the company has been publishing their Weekly Shonen Jump through digital outlets for over a year now. However before that time they published a monthly issue for many years before stopping that practice.
For fans of physical manga releases this was disappointing but Viz Media has just released Issue 2 of Weekly Shonen Jump Pack 2014. This is a printed release that features over a hundred pages of manga including chapters from All you Need is Kill, Bleach, Naruto, One Piece, and more. To top that off this release comes with a limited edition Blue-Eyes White Dragon Yu-Gi-Oh! card as well as a three month subscription to their digital Weekly Shonen Jump service.
Jump Pack 2014 Issue 2 can be purchased through any retailer that is handled by Diamond Comic Distributors or through RightStuf where it can be purchased for $19.99, though it is currently on sale for $14.99.