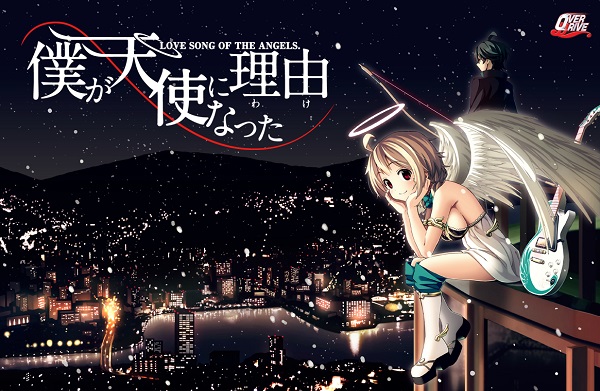 Today MangaGamer has announced that they have picked up OverDrive's Bokuten – Why I Became an Angel for release on the PC sometime later this year. Bokuten – Why I Became an Angel is a new game from OverDrive that features a brand new art style and tells a story different than what many may be familiar with from the company, but it is worth noting that the game is Adults Only.
To go along with this announcement the company has released the opening video for the game, a few CGs, and a story summary which can be found below:
Inosato City, exotic and surrounded by mountains and the ocean. In this city which is watched over by the church at its summit, a boy and girl met. The boy's name is Tomoe Kirinokojima, a young man who leads a life of solitude, not believing in love or happiness. The girl's name is Aine. She is one which sings of love, and was born to bring happiness… an angel.

Tomoe Kirinokojima's life is one which likely seems completely dull in the eyes of others. He doesn't make friends, and of course has no girlfriend. He doesn't even have something you could call a hobby. He sleeps, wakes up, goes to school, comes home, and sleeps again. His days are filled with this ordinary routine over and over again. But nevertheless, that life was not unpleasant in his eyes, because "having nothing" also meant he "couldn't lose anything." It is a given that wishing for something will always lead to horrible pain in the end, as he had experienced just how cruel this world can be more than enough.

The angel's appearance marks the end of his otherwise tranquil life. "Angel." A being which protects the love of men and women. Those who spin and play the "red threads of fate."

Tomoe says, "There's no way love will make anyone happy." Aine says, "That's not true! If you love, your heart gets all light and fluffy!" Without compromising his stance, Tomoe winds up helping this girl who is an "acting angel" with her job and gets deeply involved in the loves of others together with Aine…

The assorted sentiments and forms of happiness which comprise the phenomenon called "love" passes before his eyes. It is a journey whereupon they search for the true meaning of the thing called happiness. At the end, he will discover the reason he continued to tread forward.