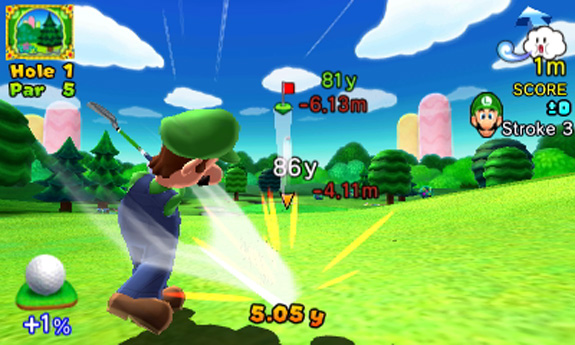 The release date for Mario Golf World Tour has been continually pushed back by Nintendo but it seems like the game might now have a solid release date. Grab your nine iron (or pretend your stylus is one) and get ready for some serious putting action as the game will be releasing on May 2nd in America.
The recent Nintendo Direct revealed several new features all revolving around the games new single player mode, The Castle Club.  Players will use their Mii characters which have 8 different types of gear and items you can wear and customise such as clubs, hats and even your golf ball. Similar to Mario Tennis Open, this gear will customise your stats and abilities such as drive distance and control. As you win tournaments, you will unlock new courses and tournaments to play on and you can also utilise certain training facilities that are like mini games that work on your skills such as putting and approaching.
A new teaser trailer for the game showcasing some of those new features was also released. You can check out the trailer below and be sure to leave a comment letting us know what you think. If you want to find out about all the other Nintendo Direct announcements that have happened recently, check out all our related articles here.