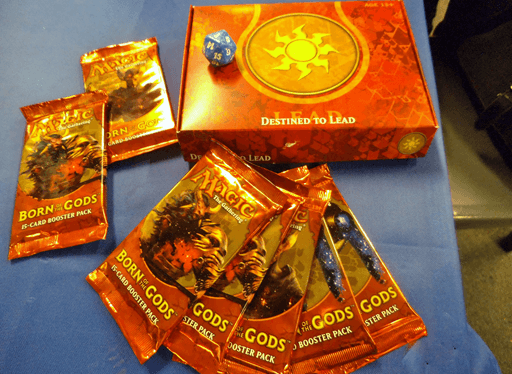 Magic the Gathering fanatics convened today for the long-awaited prerelease Born of the Gods, the latest edition to the popular strategy trading-card game franchise. The new set from Wizards of the Coast follows the Hero's Path, which began with the Theros block and will conclude with Journey into Nyx in April.
The prerelease event is similar in structure to Theros, with a choice of five packs for players to master their destiny to Lead (White), Outwit (Blue), Dominate (Black), Conquer (Red) or Thrive (Green). With each choice there comes a special promo card; Silent Sentinel (White), Arbiter of the Ideal (Blue), Eater of Hope (Black), Forgestoker Dragon (Red) and Nessian Wild Ravager (Green). Additionally players receive a Hero Card, d20 Life Counter and six booster packs (3 Theros, 2 Born of the Gods and 1 Seeded Born of the Gods).
Having attended the 4-7pm flight at Burwood Good Games, competitive matches were favoured as the prize pool was dependent on the number of wins per four rounds. Whereas the 11-3pm flight offered players a casual prize pool, guaranteeing all players 4 booster packs for participating and a little extra for first and second place. The most challenge aspect of the three matches per round was the 40 minute time cap, which increased the draw results for most players.
Don't miss out on the last day of the prerelease tomorrow at your Local Gaming Store, as there will also be the Two-Headed Giant (2HG) sealed format available for team battles.