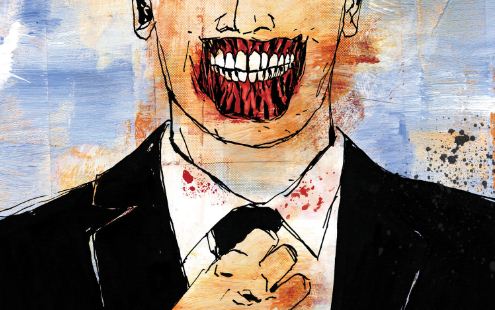 Titan Comics are extremely excited to announce that another one of their hit comics, "The Absence", is about to be released and it just so happens to only be a day or two away…depending on where in the world you live. "The Absence", written and illustrated by Martin Stiff, is an odd and horrific comic that revolves around an English coastal village and an odd man that returns after many years of being missing. The comic won an award for "Best Comic" last year at the 2013 British Comic Awards so you can see why Titan Comics are ready for it to hit public shelves. For those of you out there who haven't heard of the comic, we have the official synopsis below:
As a coastal village in southern England struggles to recover from the
losses of war, it is rocked by the return of a man long hoped dead: the disfigured Marwood Clay.

In a place where everybody hides a guilty past, and unspeakable past crimes lurk just beneath the surface… what terrible secrets has this exile brought back with him? And what happened during his absence? While Marwood struggles to rebuild his life, newcomer Dr. Robert Temple builds a strange house for himself, on the hill overlooking the town. Clay is consumed by a nightmarish past he cannot remember, Temple by visions of a future he cannot prevent.

And then a young boy vanishes on Christmas Day. A masterpiece in jagged, haunted storytelling tinged with horror and
pathos, this acclaimed series is collected here for the first time and is for anyone who loves their tales loaded with menace and shadows!
As mentioned above; the comic is set for a release on he 29th of January and will be sold in all good comic book retailers for $19.99, expect some price changes depending on where you are in the world but the assumption is that it will be as close to that price as possible. Don't click away from the article just yet because below we have some preview images that may just entice you into purchasing "The Absence". Give them a look and let us know what you think in the comments section below.