Put on your jumpers, mittens and scarf's and pour in the hot chocolate because Winter 2014 is here. It's the start of a brand new year with heaps of anime slopes to ride your sled down, and my oh my do we have some interesting titles.  I think it's safe to assume Space Dandy will be on everyone's plan to watch list this season and I myself am no exception, but let's just tear ourselves away from that particular snowflake and see what other titles we can make snowmen out of (okay I'll stop with the winter metaphors).
---
Sekai Seifuku: Bouryaku no Zvezda
There are three reasons why I'm excited for Sekai Seifuku (or World Conquest Zvezda Plot) and hopefully I won't be disappointed because of them. First of all this is an anime original title; as I've previously said about Samurai Flamenco, I'm always interested in what an anime studio can create when they have no prior source material to base anything off. Secondly the anime studio in charge of its production is A-1 Pictures, AKA the guys who gave us Fairy Tale, Oreimo and Sword Art Online. Recently I have taken a shine to their anime so I'm expecting them to make the most out of the plot, speaking of which…
The plot for this anime is just insane, mind you a story about a little girl hell-bent on world domination and actually succeeds in doing so isn't exactly a normal concept. The show follows Kate Hoshimiya and her secret society known as Zvezda as they plan and execute the impossible goal of taking over the world (Pinky and Brain, take notes). Combined with some interesting looking characters, this anime has a lot of creativity to it and I can't wait to see what the grand plan of attack will be.
---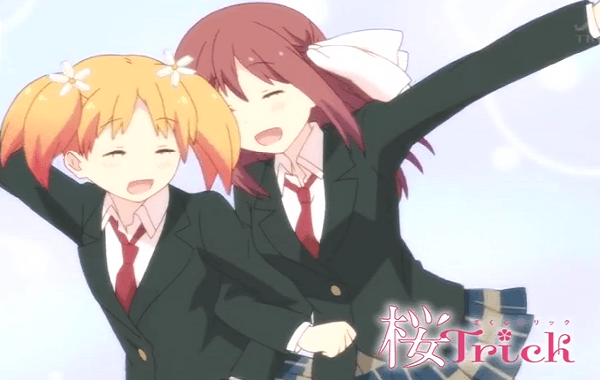 Sakura Trick
A comedy romance based in a high school that has three years left before it shuts down. Haruka Takayama and Yuu Sonada use to hang out all the time in junior high, now they're in high school and are seated far away from each other as possible. With new friends made and the schools' shut down date hanging above them, how will these two girls rekindle the close friendship they once shared years back? By kissing each other of course, the answer is so simple.
Yes this show is a Yuri and to be honest I don't have any proper reason for choosing this anime. I haven't seen many Yuri (in fact this might be the first one), but the plot alone has me asking all sorts of questions. How will other classmates react to them? How does this affect them outside of school? What problems will they occur whist attending school? Will they still be together after the school closes? Perhaps I'I'm looking too much into it, after all it is based off a four panel manga so I expect there to be a fair amount of humour. Never the less I look forward to watching this anime, and you can all look forward to my impressions about each episode by clicking here.
---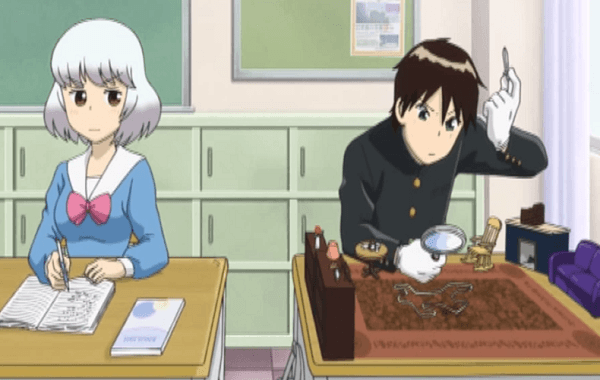 Tonari no Seki-kun
Looking at this season's list I can see a lot of shows that are based around comedy, a genre which I am very fond of, and this anime aims to deliver the laughs with a very simple concept. Trying her best to study in class Rumi Yokoi keeps getting distracted by her fellow classmate sitting next to her. Toshinari Seki spends more time working on his creative distractions then actually studying and the more elaborate his creations are the more Rumi is drawn into what he will create next.
Let's face it we all have slacked off in class from one time or another and this anime plans on taking this to the extreme. It's also good to know each episode will only be ten minutes long; I predict they will either build-up and climax one long sketch, or they will show two shorter sketches in each episode. Preferably the latter of the options as they can focus more on what info is important to the joke and work towards a great laugh (Daily Lives of High School Boys is a great example of this), rather than spend too much time on the set up and lack in the punch line. Short, sweet and hopefully well thought out and timed, this anime should be a great way to get a quick comedy fix.
---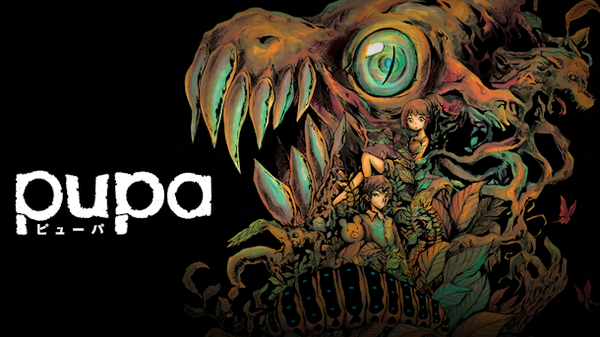 Pupa
As much as I love comedy I still think variety is important and what better way to add spice to the pot then with something that's sure to give me nightmares. As well as not seeing many Yuri, I also haven't seen a lot of horror anime (unless you count Another) and I think it's about time I dip my toes into the pool of blood. After an encounter with a red butterfly, Yume Hasagawa is suddenly struck with a virus; turning her into a disgusting, flying, human eating monster. Her older brother, Utsutsu, goes to extreme lengths in order to cure his beloved little sister, can he get rid of the Pupa virus and save the one he cares about so dearly?
This anime is described as Horror, Psychological, Drama and even Romance (between who I wonder…) or to sum it up in one word, creepy. This show appears to have one aim and that is to seriously disturb you, don't believe me? Then check out the PV, it will send shivers down your spine. I have a feeling this will be an anime that will still be talked about long after the season ends, whether it's for the right reasons though (whatever they are) we will have to wait and see.
---
Honourable mentions go to Nisekoi, Buddy Complex, Toaru Hikuushi e no Koita, Strange+ and Inari Konkon Koi Iroha.
Don't forget to check out the other Winter 2014 picks from the Capsule Computers Anime Crew, let us know what you will be watching this season by leaving a comment down below.