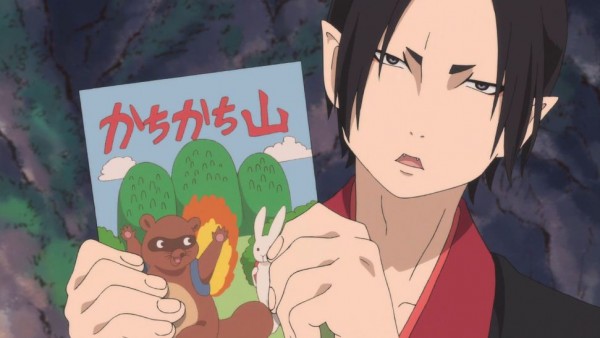 Hozuki No Reitetsu
Episode 4 – Pretty Boys Need Love Too/The Crackling Hell
Another week, another episode and I'm so glad because I cannot get enough of Hozuki No Reitetsu. Welcome back to another installment of Hozuki No Reitetsu Anime Impressions, I hope you've all been as excited about this new episode as I have! This week marks the release of Hozuki No Reitetsu episode four, an episode that takes us on a journey through the rich Japanese mythology as well as the inner workings of Hell and its workers.
Although not as funny this week, the episode does give us a little more insight into the environment of hell and the rules and regulations it has put in place for both its citizens and its workers. We're met with a not so scary ghost story, a beautifully handsome pair of young men, a group of lazy torturers and one hell of a demonic rabbit in this weeks episode so, as you can already see, this is just another typical and super crazy episode of Hozuki No Reitetsu. Let's jump in, shall we?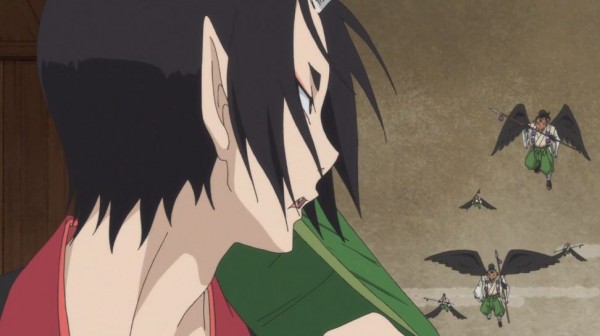 Pretty Boys Need Love Too:
The first of two stories in this weeks episode is "Pretty Boys Need Love Too", which follows Hozuki and Shiro as they head over to the Crow-Tengu Police HQ to meet with a friend of Hozuki's and a high tier worker for the department of protection. Straight up, this story wasn't really as funny as usual which I suppose I need to put less emphasis on, it's just something I feel like should be noted.
Here we're met with more Japanese mythology than usual, it seems odd to even say something like that but it's very true. A great deal of secondary subtitles outlining references to Japanese lore and/or old stories was used and I think going back to watching the episode after reading the stories would allow audiences to get more out of it. I've yet to do that but I suppose I can put it on my "to do" list.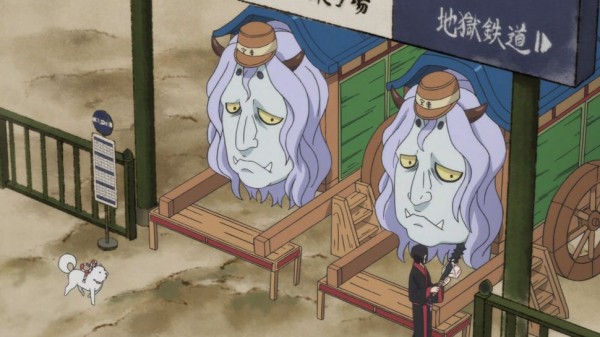 Amongst the Japanese lore are the usual pop culture references; Goku's Nimbus, the catbus from "My Neighbour Totoro" and even popular motor vehicles like Ferraris and Harley Davidsons got a mention, though are we all really surprised? We're told a reverse ghost story by a demon taxi that really highlights how silly and odd the demon world is, especially when you find out the "ghost lady" in the story was alive the whole time. Ooooh, ooooooooooh, oooooooh! You get it, it's ghost noises.
I was a little disappointed that the Crow-Tengu Police didn't get much time in the spotlight but that's just because I'm a real big Tengu fanboy. Can you be a fanboy to mythological creatures? For the most part I didn't entirely enjoy this half of the episode, I couldn't really put my finger on it but it didn't have the same "pizzaz" as some of the other stories I've seen…or maybe I'm just a bit ticked off that the Anime tricked me when it introduced a girly-looking character and it turned out to be a boy. I guess that was my fault though, the episode is called "Pretty Boys Need Love Too", and it's true; we do need love.
The Crackling Hell:
Here we are at the second half of the episode which was better than the first half but not the best all together if you ask me, and since you're reading this article I'll take it as, yes, you are asking me. Hozuki notices that these torture demons that he's employed are getting extremely lazy, they're barely torturing anymore because they're too busy taking naps and being all around lazy so in true Hozuki style he does something about it, something crazy.
He organises a meeting for these lazy bums where, at the end of it, they would have learned everything they need to know about torture in hell whilst also learning a little something about themselves…that they're scared of rabbits. He tells them, what seems like, a children's story about two animal friends; a rabbit and a badger, seems fairly innocent right? Wrong!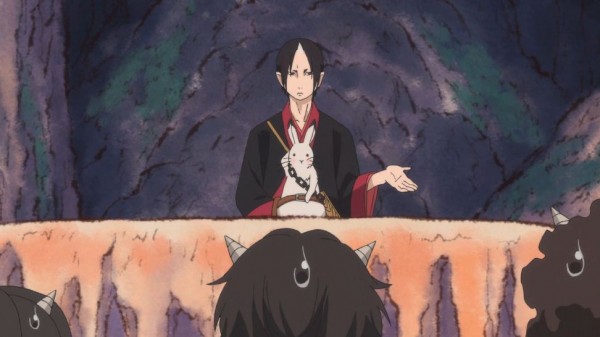 The rabbit, throughout this story, mercilessly kills this badger and some fairly brutal ways…turns out this thing wasn't a children's book after all. After scaring the group of demons (something I thought I'd never have to say) he introduces them to the rabbit from the story, to theirs (and our) surprise the rabbit is actually real and, not to mention, the story itself was entirely non fiction. Who'd have though? Though the rabbit is cute, it is also extremely scary and super deadly, Hozuki hopes the demons will learn a little something from here but really he just scares them enough to do the assigned work.
Much like the first episode I wasn't really into this one as much as I usually am, maybe because of the lack of comedy due to its focus on more of the demon world, I'm not too sure. Fact is; it gave us a nice little look into the "ongoings" of the underworld, it's proven to us that this isn't just a "random gag, nothing actually matters" anime series. Regardless, this is still one of my favourite series' of this season and you can't expect every episode to be a cracker, we'll just have to see what the coming weeks bring.
Check out more Hozuki No Reitetsu impressions HERE.