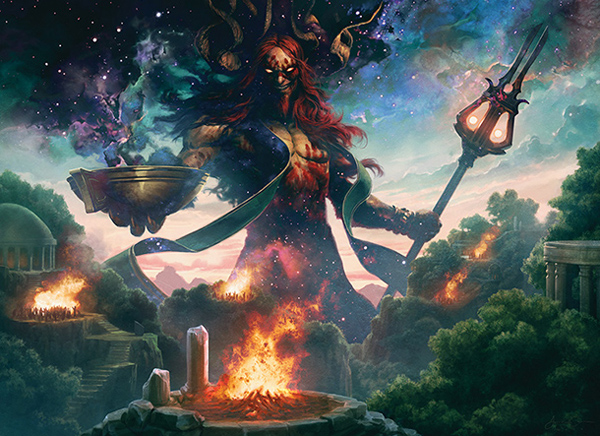 Magic: The Gathering Players, it is time to get excited! This weekend marks the time where we shall all emerge from the Nyx and be the ones who are Born of the Gods. We have been playing with Theros cards since September and now it is time to move forwards. Born of the Gods, the latest set in the Greek Mythology-inspired Theros block is almost here, and this weekend marks the set's prerelease event.
The prerelease gives players an opportunity to play with some of the new cards coming out in the set (and come up with some new strategies for the game), as well as to win some cool prizes (usually in the form of more cards). As with all prerelease events, it will be a Sealed Deck Tournament which means that you will be given six booster packs when you register and you will make and play with you 40 card deck from those cards.
Much like the Theros prerelease from September, players will choose their destiny in the form of five prerelease packs, each based on the colours of Magic. The five packs are: Destined to Lead (White), Outwit (Blue), Dominate (Black), Conquer (Red) or Thrive (Green).
Included in these packs will be:
3 Theros booster packs
2 Born of the Gods booster packs
1 Seeded Born of the Gods booster pack (featuring mostly cards that match your chosen colour)
1 Promotional card (again, matching your chosen colour)
1 Hero Card
1 Spindown Life Counter d20
1 Activity Sheet
The prerelease for Born of the Gods is also the next step along the Hero's Path that was introduced for the Theros Block, so you can continue your journey to greatness, or begin anew. You don't need to have played any of the previous steps in the Hero's Path in order to join in, so don't feel disparaged.
The prerelease will be running this weekend from the 1-2nd February, with many Local Gaming Stores running multiple events (so you can play through more than one colour and try out a bunch of different cards). Also remember that any card you open or win at the event is yours to keep, a full week before the set launches. So start tapping those lands, and remember that for all the Magic: The Gathering news as it becomes available, be sure to stay tuned to Capsule Computers.