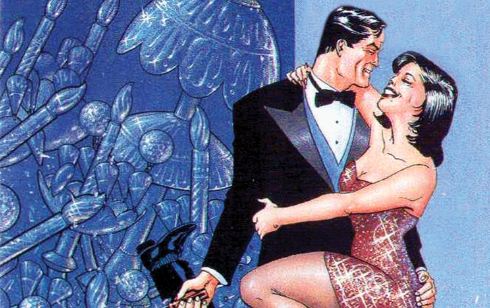 Titan Comics are extremely excited to announce that the hit comic book/graphic novel "Accident Man" is making a return to the shelves bigger and better than ever as a full collection release! Yes, this story about a smooth, suave and highly dangerous man will once again be available for a purchase with the only difference being that it compiles all four of the previously released issues into one big book. The collection doesn't just feature the four issues though, it comes packed with never-before-seen art sketches and creator commentaries that will really give fans insight into both the creation of "Accident Man" and the development of comic books in general. The Official Synopsis provided by Titan Comics themselves is as follows:
The cult series returns, remastered and collected in its entirety for the first time ever!

From the writer of legendary titles Charley's War, Marshal Law, Nemesis the Warlock and many more, with artwork by a murderer's row of lost talent, and a cover by the indomitable Howard Chaykin! Mike Fallon is smooth, suave and sexy, and a genius at the subtle art of making an assassination look like one of those unfortunate, all-too-frequent accidents.

Handsome as James Bond, lethal as Carlos the Jacket, discrete as an air bubble to the he art. Broken neck in the shower? Poor guy probably slipped on the soap!
Written by Pat Mills and Tony Skinner as well as illustrated by John Erasmus, Martin Edmond and Duke Mighten – "Accident Man" is a clever comic that I'm sure all different comic book fans could get into. It is set for a release on the 5th of February and will be available at all good comic book retailers for $29.95 which is a great price for a collection such as this. He's dangerous, he's deadly but everything he does…he does in style, get ready to get your hands on "Accident Man", coming soon.