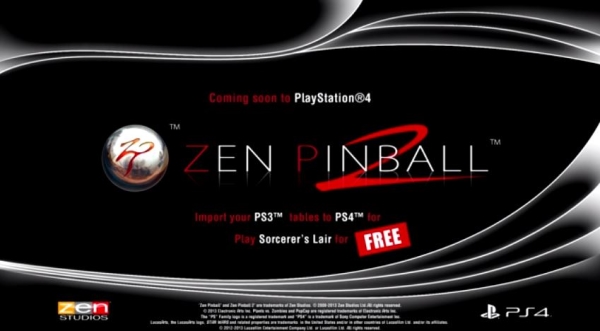 Zen Studios, the fine folks that have been bringing you arcade pinball games Zen Pinball and Zen Pinball 2 since 2008, have just announced that Zen Pinball 2 will be making the transition from PlayStation 3 to the PlayStation 4.
The game will land on Sony's newest console on December 17 in North America and December 18 in Europe with a selection of tables from last generation's table library. Marvel's Doctor Strange will also be joining Zen Pinball 2 on the PlayStation 4 as launch content for $2.99. The Sorcerer's Lair table will be free for everyone on the PlayStation 4 as well.
Any tables you've purchased for the PlayStation 3 will should carry over. Table packs, available for $9.99, will also be available on launch. Those packs include:
Star Wars™ Pinball
Star Wars™ Pinball: Balance of the Force
Marvel Pinball™
Marvel Pinball™:Avengers Chronicles
Plants vs. Zombies™ Pinball
Epic Quest
Paranormal
Earth Defense
Be sure to check out the PlayStation 4 Zen Pinball 2 trailer below this article as well!