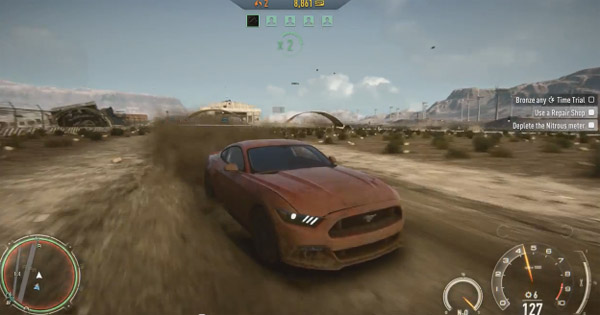 Gamers will be the first people in the world to get behind the wheel of the brand new 2015 Ford Mustang (virtually of course) by playing EA's hot little racer; Need for Speed: Rivals. The brand new car was revealed to the world just a few days ago, and now Need for Speed: Rivals players will find the hot little number sitting in their garage when they next turn on their game.
Mark Bently; Ford's product licensing manager released a brief statement about the car's inclusion in the game, stating that:
We worked closely with the development team at EA to provide them with engineering data for the new Mustang, several months before we showed it to the rest of the world. Computer design models enabled the game developers to create an accurate representation of the new Mustang before it goes on sale.
The brand new Mustang joins its brothers, the Mustang "Hero Car" from the upcoming Need for Speed film, the cop-exclusive Ford Shelby GT500 Mustang, and a whole array of exciting high-end cars for players to jump behind the wheel of and experience that type of pure escapism that only video games can accomplish. EA have put up a little video of the new car which you can check out below, and don't forget to take a look at our Need for Speed: Rivals Review. With more cars and more excitement around every bend, make sure you stay tuned to Capsule Computers for all the hot Need for Speed action as it becomes available.