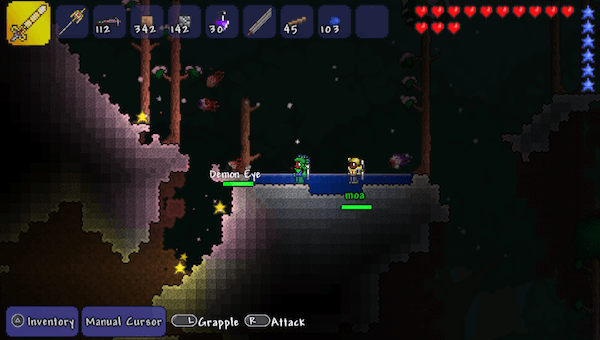 Video game publisher 505 Games has announced that the highly successful indie sandbox game Terraria will be coming to the PlayStation Vita handheld console. The game will be available to download from the PlayStation Store for $14.99 from December 17 for North American players. With this download comes several new features:
Includes PS Vita Cross-Platform Play, enrolling PS Vita players in Terraria's wider community and allowing them to interact and game with PS3™ system players.
A redesigned PS Vita control system (including touch support), an intuitive crafting/item interface and a revamped tutorial world.
PlayStation Network online multiplayer allows up to 8 players! Fight bosses together, build awesome castles or duel each other in PvP combat!
A glimpse of the upcoming Terraria 1.2 update, including over a dozen new items & recipes, 2 completely new armor sets, more that 20 new NPC types including 8 new Zombie enemies and 6 fearsome new Demon Eye variants.
PlayStation®Network leaderboards & trophies.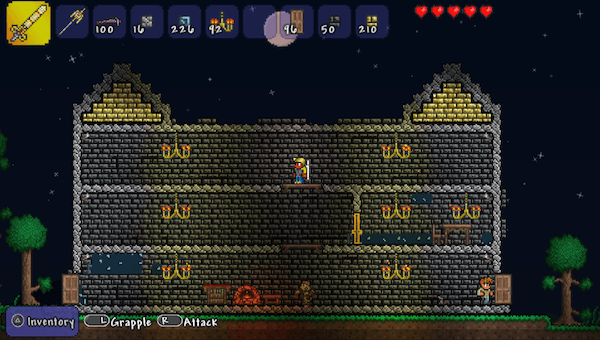 This is in addition to the vast number of existing features already available in Terraria including 200 crafting recipes, 25 block types, 100 monster types, over 30 recruitable inhabitants and over a dozen explorable environments. So this holidays, why not choose to spend some quality time crafting, exploring and slaying your way through a world which is conveniently placed in the palm of your hands.