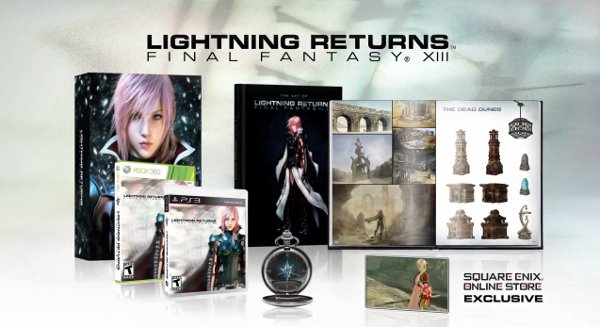 It should be no surprise that Square Enix is planning on releasing a Collector's Edition for the latest Final Fantasy game, Lightning Returns: Final Fantasy XIII. The Collector's Edition looks pretty slick with the usual fare of a hardcover artbook, case, and costume DLC; though it also has a fairly unique item in the form of a pocket watch.
While all the items are visible in the image above, those wanting to see it a bit better can see all of them in the video embedded below that shows them in a bit more detail. Anyone wanting to get the Lightning Returns: Final Fantasy XIII Collector's Edition should be made aware however that it will be available exclusively from the Square Enix Online Store.
Lightning Returns: Final Fantasy XIII is set to release February 11th, 2014 for both Xbox 360 and PS3 from a wide variety of retailer, unless of course you want the Collector's Edition.