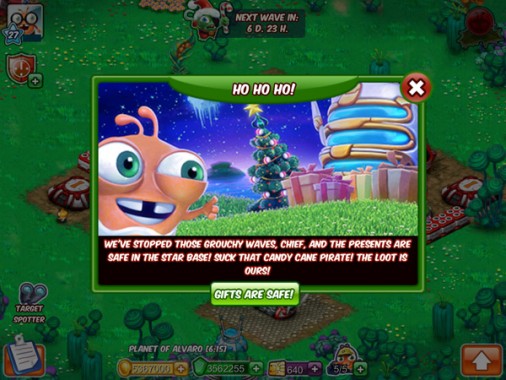 Galaxy Life: Pocket Adventures, the mobile MMO/strategy game from Ubisoft has received a massive content update in time for the holiday season. Since its launch earlier this year, Galaxy Life has had players taking control of crazy aliens, building colonies and defending them against invasions by leading their troops through epic space battles, often against other players in the game's dynamic and ever-active world.
Now, the battle has been made personal. The evil captain Sparagon and his fleet of space-pirates have stolen your Christmas presents so it is up to you to get them back. Join forced with your friends or impede your enemies to make sure you have a Merry Christmas.
Galaxy Life: Pocket Adventures is a free game for iPhone, iPad and iPod Touch, so you can grab it now from the App Store along with the holiday update which is also available now, completely free. If you want to check out a bit more of the game, then take a look at the gallery below, which is filled with a heap of screenshots from the latest update.