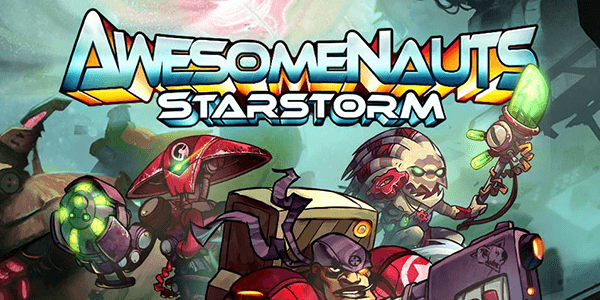 After its huge success on Kickstarter, the cosmic fury of Starstorm is upon us! Starstorm is the first official expansion for Ronimo's popular platformer game Awesomenauts. The Starstorm DLC  is currently in Early Access. Buyers will get to check out some of the new expansion content before the full release. At the moment, Starstorm offers a new character and a host of customization options.
The new character is the heavy gunner Ted McPain who comes with two premium skins. The first skin is Titanium Ted which tanks Ted out with some nice big armour. The other skin is Party Boy McPain, where he is a confident hero who still refuses to wear pants. Ted even comes with his own awesome theme song.
The new expansion will continue to grow in 2014 to include everything Ronimo has promised, which are:
– Four new characters
– A new map, the ominous Starstorm station
– More game customization and a custom games browser
– A fully featured replay system
– Spectator mode
Starstorm costs $8.99 on Steam. You can buy the game and check out all the features that it has to offer at the Awesomenauts website.