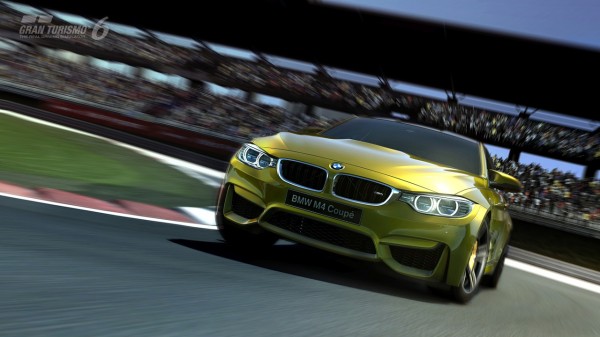 Polyphony Digital, along with BMW, are proud to announce the inclusion of the new BMW M4 Coupé in Gran Turismo 6. Gamers who update the game as of today will have access to it before the car even goes on sale in real-life, next year.
A unique seasonal event featuring the BMW M4 Coupé is also available to players for the following two weeks, as a celebration of this collaboration. The BMW M4 Coupé Superlap challenge will take place on the famous Nürburgring Grand Prix circuit. Up to this point, the BMW M4 Coupé has only been shown publicly as a 'concept car', but BMW M GmbH was willing to provide the developers with an unprecedented level of access during its development phase in order to accurately capture the vehicle. Check out the reveal trailer below.
Dr Friedrich Nitschke, President BMW M GmbH, spoke of the mutual respect evident between all parties involved;
It is very exciting to virtually 'launch' the BMW M4 Coupé in Gran Turismo 6. The BMW M4 Coupé takes motor sport technology from the race track to the road, and thousands of laps of the legendary Nürburgring Nordschleife – the world's most demanding race track – have readied the new model for that transition. I am very much looking forward to seeing how it looks and feels in Gran Turismo on the same circuit.
President of Polyphony Digital, Kazunori Yamauchi, says its a big source of pride for the studio;
It is always wonderful to be able to bring to life a brand new car and I would like to thank BMW for trusting us with all of the data we needed to create the BMW M4 Coupé at such an early stage. The car is fantastic. I felt very privileged to have a few laps around Ascari during the Gran Turismo 6 launch event and I am sure that Gran Turismo fans will now enjoy the same experience as well as the novelty of being among the first in the world to try the BMW M4 Coupé.
GT6 owners can take the car for a spin on over 37 tracks right now. Stay tuned to Capsule Computers for future GT6 updates from Sony.