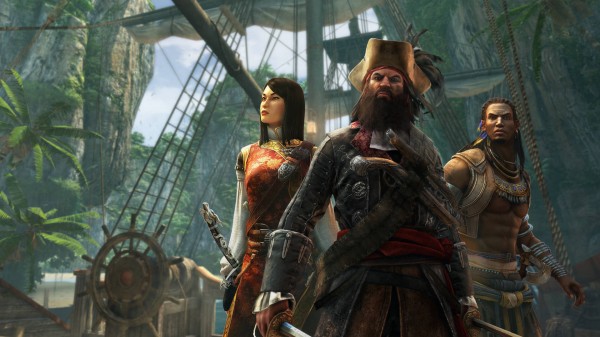 Assassin's Creed IV: Black Flag has had a fantastic release and has been seeing some pretty good review scores, but since it has been out for sometime Ubisoft has gotten its Multiplayer DLC ready for release this week. The DLC, titled "Blackbeard's Wrath" will be adding in 3 new characters to the multiplayer experience of Black Flag for players to utilize.
Including the dread pirate Blackbeard himself with his twin cutlasses, the Orchid a Chinese military adviser during the Quing Dynasty with her katana, and the Jaguar an Aztec warrior from Mexico named Cuali that makes short work of his foes with his axe. Those wanting to see what these killers will look like going at it in multiplayer can check out the new screenshots release by clicking on the images in the gallery below.
Assassin's Creed IV: Black Flag is available now for Xbox 360, PS3, Wii U, Xbox One, PS4, PC, but "Blackbeard's Wrath" will be releasing on Tuesday for Xbox 360, Xbox One, and PC, then on Wednesday for PS3 and PS4, with no word of it coming to Wii U.