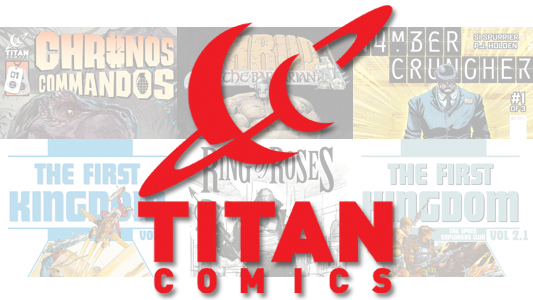 The A1 Anthology collection is one of Titan Comics' premiere ways of getting top-quality comic book stories, from top-notch artists and writers out to the public. With that in mind, November 26th will mark the launch of A1 Annual. A1 Annual will be an over-sized, 178 page extravaganza chock full of stories from up and coming talents, as well as industry veterans such as; Jim Steranko, Scott Hampton, Jack Kirby, Dave Gibbons and Kevin Eastman.
Here is the official synopsis for A1 Annual:
A1 has always been a laboratory for creators to experiment and innovate, to break away from corporate creations and unleash their own ideas. Already proving a success with the new monthly comic book, this first all-new A1 Annual marks the thrilling return of the award-winning graphic anthology series to bookshelves everywhere!

Inside these oversized pages, a Who's Who of comics' talent – past, present and future – spread their imaginative wings across a gripping selection of all-new short stories. Which ones will be the breakout, creator-owned characters of tomorrow?!
If you love comic books, and are looking for some awesome new creator-owned stories to get stuck into, then A1 Annual looks like it will be the best place to go. Let us know in the comments below if you will be picking up the book, and your thoughts on creator-owned content in general. As always, stay tuned to Capsule Computers for all the Titan Comics news as it becomes available.