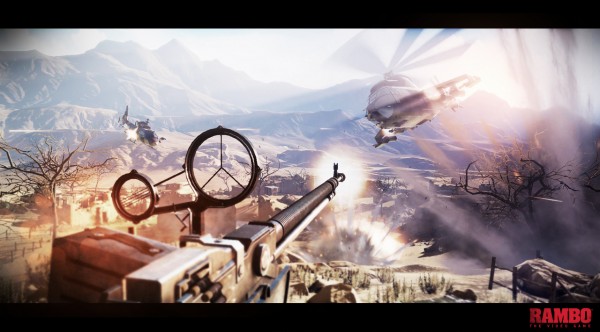 Rambo The Video Game is on its way lurking just out of eyesight for the perfect moment to strike and Reef Entertainment has just released a show of force that fits the game just right. The newest trailer that has surfaced has a whole heap of gun fighting and brawling.
The gameplay trailer shows off scenes from each movie in turn from the woods and city of First Blood to the war zones of 2 and 3. Rambo The Video Game looks to capture everything that Rambo is all about including blasting enemies to pieces with his M60 and raining down missiles from a helicopter. Hopefully everything one could want from a shooter game based on such a well known property.
The gameplay trailer is embedded below for anyone wanting to see how the movies will be translating to the game. Rambo The Video Game is set to release in early 2014 for Xbox 360, PS3, and PC those still looking to receive the limited edition figure bonus can still pre-order the game now.