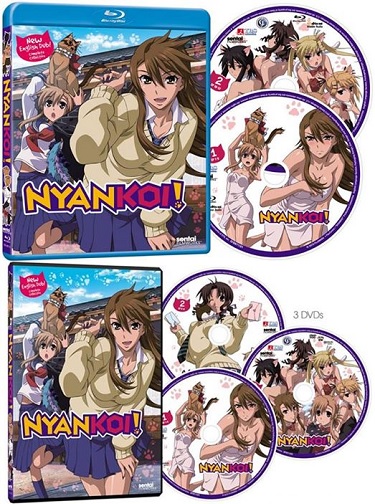 As you may already know, Sentai Filmworks is re-releasing Nyan Koi! in North America but this time they are also giving the series an English dub after their initial release back in 2010 was subtitle only. As such, the company has revealed the English cast which can be found below:
Humans
Jyunpei Kousaka — Connor Leach
Kaede Mizuno — Lesley Pedersen
Kanako Sumiyoshi — Maggie Flecknoe
Nagi Ichinose — Kara Greenberg
Chizuru Mochizuki — Monica Rial
Kota Kawamura — Greg Ayres
Keizou Kirishima — Andrew Love
Akari Kirishima — Cynthia Martinez
Cats
Nyamsus — Marcy Bannor
Tama — Jay Hickman
Josephine — Sam Roman
Noir — Elizabeth Bunch
Chatora — Mark X. Laskowski
Nyan Koi! is currently set to be released on DVD and Blu-ray on December 31st after being delayed from September 24th.