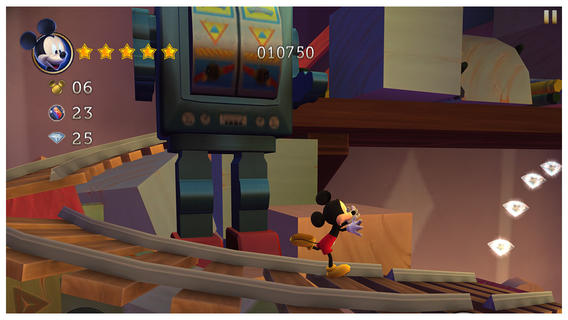 Welcome back for this week's iOS Game Suggestions. If you missed last week's, or are new to the suggestions, click on the link below and check out what cool games you should be picking up for your iOS device along with the introduction on how the suggestions work. (suggestions 1 has how it all works)
MasterAbbott's iOS Game Suggestions
A great week on iTunes! As always, it started slow and but ended with a bang! There are many must-buy games this week in all departments, FREE, 99c and over 99c. This week I've suggested a massive total of 24 great quality titles. Make sure you check them all especially… Steam Punks, Shivah, Space Chicks, Let Me Loose, Castle Of Illusion Staring Mickey Mouse, Give My Ball Back    just to name a few.
Break down below :
10 – FREE Games
4 – $0.99c Games
10 – Over $0.99c Games
As always for this week's suggestions are all new titles that you should take a look at and consider spending your hard earned iTunes cash / time on.  Well the Free games just below certainly should all be given a shot as they won't cost you anything!
For The Cheapskates – FREE GAMES
 
Doodle Pool 2: The Chalk Of Destiny – Price : FREE – Publisher –

Funky Bee Games

 (Travel through time in this epic adventure. Playing Pool against some of history's greatest characters in search of the Chalk Of Destiny. 

) runs on iPad & iPhone.

GET IT NOW FOR FREE

 
Team Monster – Price : FREE – Publisher –

Mobage

 (Team Monster introduces players to a mysterious island archipelago inhabited by adorably viscous monsters and a colorful cast of characters.

) runs on iPad & iPhone.

GET IT NOW FOR FREE

 
Zuki's Quest – Price : FREE – Publisher –

Tiny Touch Tales

 (Zuki's Quest is a mobile, turn-based puzzle platformer. Solve challenging puzzles by controlling the gravity and helping Zuki to free a mysterious island from its ancient curse. 

) runs on iPad & iPhone.

GET IT NOW FOR FREE

Epic Empire: A Hero's Quest – Price : FREE – Publisher –

Pocket Gems

 (With merciless bandits and deadly bosses around every corner, only the most fearless and strategic leader can bring honor to his empire. Arm your heroes, prepare for battle, and defend your town! 

) runs on iPad & iPhone.

GET IT NOW FOR FREE

 

Ghost Catchers – Price : FREE – Publisher – Nurogames (Welcome to the world of ghosts! Uncanny beings hidden to the human eye roam our world. In our daily lives they affect our chances to become fortunate or on the contrary to provoke misfortune. Tearing a shoelace, slipping on a banana peel, but also winning the lottery – these are events which can be traced back to the influence of ghosts. They are responsible for all the situations that people have found words for like "luck" and "karma".) on iPad & iPhone. GET IT NOW FOR FREE

 
Frozen Free Fall – Price : FREE – Publisher –

Disney

 (Get ready for an epic puzzle matching adventure in the Kingdom of Arendelle , inspired by the newest Disney animated film, Frozen! Join Anna, Elsa, and more of your favorite characters on a journey to slide and match 75 icy puzzles for free!

) runs on iPad & iPhone.

GET IT NOW FOR FREE

 

Flick Kick Football Legends – Price : FREE – Publisher – PikPok (Kick it old school with the latest game in the Flick Kick series; Tackle, Pass, Shoot and More! Defeat Rivals! Win the League! Become a Legend!) on iPhone & iPad. GET IT NOW FOR FREE

 

Clumsy Ninja – Price : FREE – Publisher – Natural Motion (Meet Clumsy Ninja, the most hapless ninja ever to grace a touchscreen! Train him, throw him, tickle him, and even tie balloons to him. Everything you do will make Clumsy Ninja more skillful, and help him find his missing friend, Kira. Clumsy Ninja is the next generation of interactive characters! He can sense, feel, move, and react uniquely every time. Prepare to be amazed…oh, and please take good care of him!) on iPhone & iPad. GET IT NOW FOR FREE

 

Tic Tactics – Price : FREE – Publisher – Hidden Variables Studios (A fresh new take on a familiar classic, Tic Tactics is a turn-based multiplayer game that's easy to learn, but challenging to master!  If you know how to play Tic Tac Toe, you already know how to play Tic Tactics. The twist is that YOU DECIDE precisely where to send your opponent with every turn. You'll be amazed by the strategic depth that awaits!) on iPhone & iPad. GET IT NOW FOR FREE

 

Hunger Games: Catching Fire – Panem Rum – Price : FREE – Publisher – Reliance Big Entertainment (Challenge and outrun your Friends through Panem while collecting sparks and resources to empower your District. Unrest is afoot in the Districts, and you're in the thick of it in this social endless runner!Build hope for the oppressed by running through three of the 12 Districts in randomly generated levels, with more Districts becoming available soon!Collect sparks and materials that can be synthesized as power-ups and participate in a global-wide competition to achieve the #1 position!) on iPhone & iPad. GET IT NOW FOR FREE
For The Bargain Hunters – 99c Games
 

Space Chicks – Price : $0.99 – Publisher – Crescent Moon Games (Space Chicks is a gorgeous endless platformer with simple one touch controls, amazing Space physics, beautiful effects, and heaps of fun. Kill bad guys, save chicks, drive spaceships, compete with your friends online or play two player on the same device, complete all of the missions to receive rewards and be the Hero the Chicks need you to be!) runs on iPhone & iPad. BUY NOW

 

Give My Ball Back – Price : $0.99 – Publisher – Bulkypix (Tobias is a curious kid. While he is peacefully playing in his room, his favorite ball mysteriously disappears in his wardrobe. He rushes to get it back and is hurled into Moco's world, the mischievous shadow who took his toy. « Give my ball back! » Fight for the ball by alternately embodying Tobias and Moco through more than 40 levels which will severely test your logic. Dodge the traps cleverly set by the other one by successively activating objects, toys and animals to ultimately recover your ball without getting caught. And make sure you don't forget to look for the stars hidden in each scene to unlock bonus levels.) runs on iPad & iPhone. BUY NOW

 

Let Me Loose – Price : $0.99 – Publisher – Chillingo (Help a troublemaking amoeba escape from a laboratory filled with mind-bending contraptions and experiments. Move your squishy new friend safely through puzzles and peril to much on tasty scrummies.) runs on iPhone & iPad. BUY NOW

CHECK OUR REVIEW FOR LET ME LOOSE HERE

 

Skull Legends – Price : $0.99 – Publisher – PlayShore (Defend yourself with towers, shoot your powerful bow and don't let the skeleton warriors cross your battle lines! A brilliant evolution of classic tower defense, combining first person shooter and elements of role-play. Strategy and action like you've never experienced before.) runs on iPhone & iPad. BUY NOW
For The Millionaires – All games over $0.99
 

MasterAbbott's over 99c Pick Of The Week!

Castle Of Illusion Starting Mickey Mouse – Price : $10.49  – Publisher – Disney (Mickey Mouse returns to star in Castle of Illusion, a fantastical reimagining of the Sega Genesis classic. When the evil witch Mizrabel kidnaps Minnie, it's up to Mickey to brave the dangers of the Castle of Illusions to rescue Minnie. Gather your courage and traverse enchanted forests, take on hordes of rebellious toys and navigate mazes of living books. Play as Mickey and save Minnie from Mizrabel's evil clutches!) runs on iPhone & iPad. BUY NOW

 

Steam Punks – Price : $1.99  – Publisher – Monster Robot Studios (Steam Punks is a action platformer RPG inspired by classics SNES games like Mega man X.
Elite Enforcer Dunns Calhan is on his mission to take down the Bowler Gang and get back Professor Clout's stolen invention, The Grand Reactor. ) runs on iPhone & iPad. BUY NOW

 
Shivah – Price : $1.99 – Publisher –

Wadjet Eye Game

 (Russell Stone is a Jewish rabbi at a struggling synagogue in New York City. He is a devout man with a problem – membership is down and he lacks the funds to keep his synagogue open. Things are looking very bleak, and he has grown progressively more cynical and bitter with the passage of time.

) runs on iPad.

BUY NOW

 
Lords Of Waterdeep – Price : $7.49 – Publisher –

Playdek

 (Welcome to Waterdeep, the City of Splendors! A city run by a secret society of masked Lords who rule with shady back-door dealings and unmatched political power. In Lords of Waterdeep players will play as one of these masked Lords and will need to recruit adventurers to go out and complete quests for them. The more quests they complete, the more control and influence they have over the city. Players can expand the city by purchasing buildings that will open up new opportunities within the city walls) runs iPad & iPhone. BUY NOW
 

Little Bit Evil – Price : $3.99  – Publisher – CP Decision Lmited (Traditional Defense and top quality graphics! Build and upgrade towers, use special landmarks, practise magic and perfect your tactics to defend the Lands of Evil from the invaders.
Multi-hour gameplay, advanced tower upgrades, a skill tree, a challenge mode, various locations and more than 70 game achievements. Fight on the evil side! ) runs on iPhone & iPad. BUY NOW

 

Strike Force Heroes: Extraction – Price : $1.99  – Publisher – Not Doppler (Stopping the enemy won't be a walk in the park. They know you're onto them, and armed soldiers will align each level ready to take you out! Strike Force Heroes: Extraction comes filled with intense enemy shootouts, epic helicopter chases and a unique 'cover' mechanic; allowing players to shield themselves from fierce enemy onslaught — and to pick off the enemy one by one!) runs on iPhone & iPad. BUY NOW

 

Touchgrind Skate 2 – Price : $4.99  – Publisher – Illusion Labs. (Skate like a pro in the most realistic multi-touch skateboarding game ever! Just like in real skateboarding or fingerboarding, Touchgrind Skate 2 is a game of skill that takes 10 minutes to understand but a lifetime to master. Learn the tricks, complete challenges, and unlock new skateboard parts. Get the highest score in time-limited Competition mode, rip freely and complete challenges in Jam Session mode, challenge your friends in the turn-based multiplayer Game of S.K.A.T.E or export video clips and show off your best lines.) runs on iPhone & iPad. BUY NOW

 
Hatch – Price : $1.99 – Publisher –

Impending

 (Remember, this is a pet and not a game or an app! Fugu have a naturally gentle disposition and require minimal care as a pet… but thrive when given extra love and attention!

) runs on iPhone & iPad.

BUY NOW

 
Coaster Crazy Deluxe – Price : $1.99 – Publisher –

Frontier Development

 (Coasters! Pandas! Zombies! Cheerleaders! Explosions! From the creators of RollerCoaster Tycoon® 3 and LostWinds® comes a rollercoaster game unlike any other, starring little old ladies, mad scientists, the undead, accountants, queasy guys, extra-terrestrial visitors, and …er… sheep. ) runs iPad & iPhone. BUY NOW
 
Pocket Stables – Price : $3.99 – Publisher –

KAIROSOFT

 (Manage your very own ranch while training your racehorses to win big in exciting races! Build training facilities like dirt courses and pools amidst the beautiful natural surroundings of your ranch. Increase your ranch's fame and entice visitors to spend some dough at your ranch's amenities, like ice cream stands and gift shops.Find horses with the right combination of stamina and speed and intensity and train them to race. Keep winning races to earn bigger and better prizes, as well as the ability to compete in even bigger and more exciting races on an international scale.) runs iPad & iPhone. BUY NOW
There you have it folks these games should keep you busy for quite some time well until next week at least. I'll be back next week for another dose of iOS goodness, in the meantime if you would also like to suggest your own suggestions, please feel free to share them in the comments section below or in the iOS forum section on the site here.
Remember kids, Play Hard Or Don't Play At All!