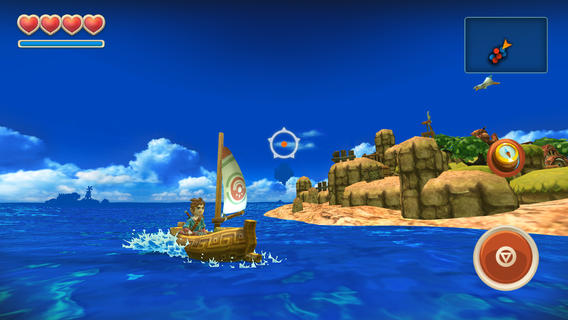 Welcome back for this week's iOS Game Suggestions. If you missed last week's, or are new to the suggestions, click on the link below and check out what cool games you should be picking up for your iOS device along with the introduction on how the suggestions work. (suggestions 1 has how it all works)
MasterAbbott's iOS Game Suggestions
A great week on iTunes! As always, it started slow and but ended with a bang! There are many must-buy games this week in all departments, FREE, 99c and over 99c. This week I've suggested a total of 22 great quality titles. Make sure you check them all especially… Oceanhorn, Ittle Dew, Neon Shadow, EPOCH.2, GT Racing 2, Dead On Arrival 2, Beetle Breaker, Joe Dever's Lone Wolf,  just to name a few.
Break down below :
10 – FREE Games
2 – $0.99c Games
10 – Over $0.99c Games
As always for this week's suggestions are all new titles that you should take a look at and consider spending your hard earned iTunes cash / time on.  Well the Free games just below certainly should all be given a shot as they won't cost you anything!
For The Cheapskates – FREE GAMES
 

MASTERABBOTT'S FREE GAME PICK OF THE WEEK!

GT Racing 2: The Real Car Experience – Price : FREE – Publisher – Gameloft (GT Racing 2: The Real Car Experience is a true-to-life automotive journey featuring the most prestigious cars in the world! The best-selling franchise is back and it's designed to offer an unprecedented level of driving enjoyment, whether playing solo or multiplayer.) on iPad & iPhone. GET IT NOW FOR FREE

Dead On Arrival 2 – Price : FREE – Publisher –

N3V Games

 (Tear through wave after wave of the walking dead as you fight for your life in an industrial playground filled with deadly traps and deadlier enemies. An intense top down survival shooter, bringing console quality graphics to your mobile device. Featuring a Strategic Spending System, survival is based not just on your skills but also the decisions you'll make about how to spend the precious Z-Bucks earnt from each kill. Making the wrong decision between more ammo now or a better weapon later could mean life or death.

) runs on iPad & iPhone.

GET IT NOW FOR FREE

 
Swords and Spells – MMORPG – Price : FREE – Publisher –

XYRALITY

 (Thrilling battles, a fantastic story and exciting missions, all this and much more awaits you in Swords and Spells! Whether alone or with your friends, defeat epic monsters and loot rare epic items. Adapt your equipment wisely, according to your opponents' abilities and your attributes. Prevail and become the liberator of Abion!

) runs on iPad & iPhone.

GET IT NOW FOR FREE

 
Tank Nation – Price : FREE – Publisher –

Wormhole Games

 (Tank Nation is a free-to-play single and multiplayer game that brings classic tank vs. tank fun to the iPad – with turn-based arcade action and awesome characters. Collect loot, customize your tanks, and blow stuff up!

) runs on iPad & iPhone.

GET IT NOW FOR FREE

 
16-Bit Game Quiz – SNES Edition – Price : FREE – Publisher –

Joshua Hallaran

 (Do you remember the Super Nintendo? All those great games… But how well do you really know it? In 16-Bit Quiz, you can put your memory to the test on over 200 games – everything from your favourite SNES classics to obscure Super Famicom titles. Stuck? No problem. Use Hint Stars to get information and clues. Leave no game unnamed!

) runs on iPad & iPhone.

GET IT NOW FOR FREE

 
Tunes Up! – Price : FREE – Publisher –

Bulkypix

 (Rock, Pop, Dance, Country, Rap, Jazz, Reggae, Lounge…
Challenge all your friends in musical culture. What is the title of this song? Which song belongs to this album? Who sings this title? Tons of questions, a lot of music, different styles. You think no one can beat you when it's about music, check it and send challenge to your friend list.Start by creating and customizing your special avatar.Then you are ready to train versus the AI and prepare yourself for all your duels against your friends and players all around the world. 

) runs on iPad & iPhone.

GET IT NOW FOR FREE

 

Beetle Breaker – Price : FREE – Publisher – Chillingo (Send these kamikaze critters sky high to obliterate huge objects in this challenging physics-based puzzler.They might be small but these bugs are ready to blow! Tap and drag your finger to aim your slingshot and catapult these bugs around moving obstacles to land the perfect explosion.) on iPad & iPhone. GET IT NOW FOR FREE

 
Maze Crusade – Price : FREE – Publisher –

My Evil Twin

 (Thy King has chosen YOU, young Knight, to go on a Maze Crusade! Match wits with evil gnomes, henchmen, gargoyles, ghosts, and sorcerers as you are being chased by a rolling wall of SPIKES through the treacherous maze! Solve the puzzles in the maze by matching items to earn bombs, spells, towers, and magical rewards! Cast spells to ride a magic horse, become invisible, freeze the maze, earn magic armor and more!

) runs on iPad & iPhone.

GET IT NOW FOR FREE

Gardenscapes 2 – Price : FREE – Publisher – Playrix (Gardenscapes 2 takes the unique experience of the original Gardenscapes to a completely new level! The garden at the estate where Austin was born and grew up in is in a pitiful state. Rundown and neglected, it is waiting for you to come and restore it. Accompany Austin to the place of his childhood, meet his parents, and collect the old photos and other memorable things from his past. Run sales of the old stuff found around the house to implement the original decor ideas of your own! Help your good old friend bring the family garden to bloom again.) on iPhone & iPad. GET IT NOW FOR FREE

 

Apha Zen – Price : FREE – Publisher – Large Animal Games (Alpha Zen is a puzzle game with something to say. In this companion to the critically acclaimed Color Zen, you connect words to build quotes, from literature, pop culture, and philosophy to your own friends' Facebook statuses. As in Color Zen, there are no points or penalties for failure — only you, your headphones, and the collected wisdom of the world.) on iPhone & iPad. GET IT NOW FOR FREE
For The Bargain Hunters – 99c Games
| | |
| --- | --- |
| | Solar Flux Pocket – Price : $0.99 – Publisher – Crazy Robot Games (Save dying suns with collected plasma in your specialized ship in this unique puzzle strategy game. You are the last hope to bring salvation to a perishing universe. Supernovas, Asteroid Fields, and force fields are just some of the challenges you will face as you navigate your ship through the intense heat of imploding stars to complete your mission. ) runs on iPhone & iPad. BUY NOW |
|   | Don't Shoot Yourself – Price : $0.99 – Publisher – Ayopa Games (Shoot, move, and avoid to solve each puzzle. Easy right? Think again! Use quick reflexes and smart strategy to uncover the next cleverly designed level. Countless sessions of constantly entertaining adventures! *75% OFF limited-time launch sale*) runs on iPad & iPhone. BUY NOW |
For The Millionaires – All games over $0.99
 

MasterAbbott's over 99c Pick Of The Week!

Oceanhorn – Price : $9.49 – Publisher – FDG Entertainment (You wake up and find a letter from your father. He is gone… The only lead is his old notebook and a mysterious necklace. What happened? Explore the islands of Uncharted Seas, a world filled with many dangers, puzzles and secrets. Fight monsters, learn to use magic and discover ancient treasures which will help you on your quest. Use all your wits and skill to unravel the mysteries of ancient kingdom Arcadia and sea monster Oceanhorn.) runs iPad & iPhone. BUY NOW

 
EPOCH.2 – Price : $6.49 – Publisher –

Uppercut Games

 (EPOCH has trekked across a war-ravaged country to find the one person he was programmed to protect: the Princess, Amelia. Now he must follow a final, desperate lead to reach her, with the two warring robot armies of Omegatroniks and Alphetekk standing in his way. But what surprises await EPOCH when the Princess is finally located? And what will she make of the world she wakes up to?) runs iPad & iPhone. BUY NOW
 

Ittle Dew – Price : $5.49  – Publisher – Ludosity (Adventuress Ittle Dew and her sidekick Tippsie crash onto a strange island, filled with loot and mysterious inhabitants. It quickly dawns on the duo that this might become their biggest adventure yet. Ittle Dew boils down the classic adventure formula until there is only fun left. Experience devious puzzles, timeless gameplay and lots of exploration!) runs on iPhone & iPad. BUY NOW

 

Joe Dever's Lone Wolf – Price : $4.99  – Publisher – Bulkypix (Lone Wolf is back, as a video game and with a brand-new story, a new combat system, stunning graphics and much more! The world-famous author Joe Dever has teamed up with Forge Reply and Atlantyca Entertainment to create a new adventure starring the legendary Kai Lord: a new gamebook experience for long-time enthusiasts and new fans alike.) runs on iPhone & iPad. BUY NOW

 
Football Manager Handheld 2014 – Price : $10.49 – Publisher –

SEGA

 (Football Manager Handheld 2014 is the best-selling and most realistic football management game available for mobile and tablet devices. The game allows you to live out the ultimate dream of managing your favourite club – you make the big decisions, you decide on transfers, tactics and substitutions as you follow the match live with the acclaimed match engine. Can you keep the fans, board and media happy and lead your team to glory?

) runs on iPad.

BUY NOW

 

Neon Shadow – Price : $1.99  – Publisher – Crescent Moon Games. (Neon Shadow is a fast paced Cyber Punk FPS inspired by classic shooters. Suit up and grab your shotgun. Your mission: Save humanity from the dark mechanoids who have taken control of your space station and soon the rest of the galaxy!) runs on iPhone & iPad. BUY NOW

 
Stealth Inc. – Price : $2.99 – Publisher –

Curve Digital Games

 (It's finally here! The much-anticipated iOS version of Curve's indie smash hit, Stealth Inc! Stealth Inc is a fast-paced stealth platformer featuring brutal hazards, ruthless enemies, fiendish puzzles and red pixels galore. Jump, sneak, and be chunked through 80 levels. Will you make it out alive?

) runs on iPhone & iPad.

BUY NOW

 
King's League: Odyssey – Price : $1.99 – Publisher –

Gamenauts

 (King's League: Odyssey is a 100% premium game with *no in-game currency as IAPs* and perfectly balanced for a true gamer's experience. The acclaimed Flash strategy hit game with over 5 Million players finally arrives on mobile, enhanced with premium content and HD graphics! Recruit an army of over 40 unique classes including Lancers, Berserkers, and Dragoons to battle against other teams in the League. ) runs iPad & iPhone. BUY NOW
 

Tilt to Live 2: Redonkulous – Price : $2.99  – Publisher – One Man Left (Return to a world of fast-paced, tilt-only arcade action! You'll flee a relentless onslaught of dastardly dots, desperately darting between single-use weapon orbs. Each orb provides a unique burst of fiery relief! Sometimes it's lasery relief. It really depends.) runs on iPhone & iPad. BUY NOW

 

Harry Likes Plums – Price : $2.99  – Publisher – Tim Leslie. (In Harry Likes Plums, an unbearably cute green blob called Harry is armed only with a broken teleporter, a healthy obsession with plums and your wits. When he inevitably materialises just out of reach of his fruity fancy, you use the tools at your fingertips to get him those last few inches.) runs on iPad. BUY NOW
There you have it folks these games should keep you busy for quite some time well until next week at least. I'll be back next week for another dose of iOS goodness, in the meantime if you would also like to suggest your own suggestions, please feel free to share them in the comments section below or in the iOS forum section on the site here.
Remember kids, Play Hard Or Don't Play At All!