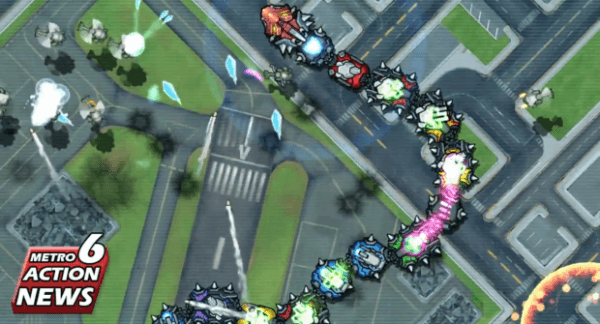 Aussie development team Halfbrick has released a trailer for upcoming title Colossatron: Massive World Threat. The game was first announced only a few months ago at PAX Australia in July, and information has been a bit thin on the ground since. Halfbrick are of course famous for mega hits Fruit Ninja and Jetpack Joyride, so there is a fair bit of expectation resting on the shoulders of the titular gigantic armoured snake from space (if snakes have shoulders, probably not).
The trailer introduces some of the games characters in the frame of a news report: the incompetent but angry General Moustache, intrepid reporter Katie Hazard, and smoothie news anchor Rick Dalton. Players won't actually be playing as these characters, as Massive World Threat is all about being the best destructive space snake that you can.
The trailer also explains the Power Core gameplay mechanic: players will be able to pick up and add Power Cores to Colossatron's body in order to improve his capacity to smash things up. These will come in different colours, and mixing colours or matching a line of three will add new weapons and abilities.
The game is due for release before 2013 is out, so expect a lot more news from Halfbrick in the near future. Capsule Computers' Luke Halliday had a chance to try out the iPad version of the game at PAX Australia, and you can read his hands on preview here.