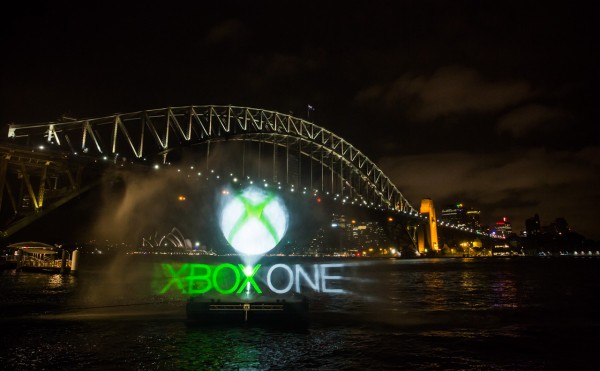 We've officially 'jumped ahead' to the next-generation here in Australia with the launch of the Xbox One mere hours ago, and only second in the world behind New Zealand (must…resist…Kiwi joke…). To celebrate, Xbox Australia lit up the Sydney skyline, awash in Xbox green.
Luna Park was bathed in the hue as the party commenced at the Crystal Ballroom within. Among the 400-strong in attendance were numerous industry guests, representatives and celebrities, from developer and publisher giants Ubisoft, EA, Warner Bros. Interactive and Zenimax Australia, to Good Game co-hosts Steven 'Bajo' O'Donnell and Stephanie 'Hex' Bendixsen, and Big Brother contestants Tully Smyth and Drew. The night's festivities were hosted by TV and radio presenter James Kerley.
Outside the venue, a 3D countdown to midnight greeted us, projected upon the mist on Sydney Harbor. Upon entering, but before being left to roam and play the myriad titles on display – with everything from Kinect title Fighter Within (first time playable) to the uncannily realistic NBA 2K14 present – a high energy graffitti/dance performance by J-Town christened the event. Before long, we were engaging in matches of Killer Instinct, racing with the McLaren P1 in Forza Motorsport 5 and playing some holes in Powerstar Golf.
Our immediate environment wasn't the only location marking the console's arrival, as – for the first time ever – the Sydney Tower switched off the Westfield sign for the evening, transforming into a beacon for the brand and the largest countdown clock in the Southern Hemisphere. Game images were also projected upon its side throughout the night (Auckland's Sky Tower similarly carried the Xbox flag so to speak).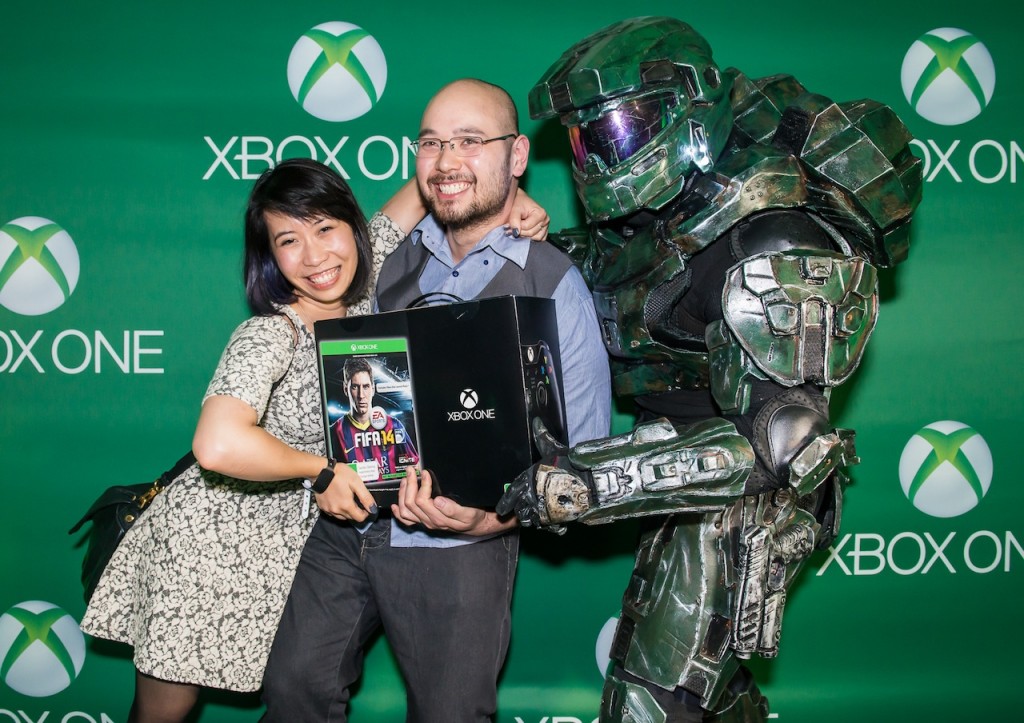 The Presets really got the party bumping, playing an entire show in the decidedly intimate setting. which was a fantastic treat. Jeremy Hinton, Interactive Entertainment Business Lead, Microsoft Australia, says the launch of the Xbox One was a celebration of gaming culture;
It's a great time to be a gamer and we are honoured to be a part of this incredible industry. More than 370 retail stores opened around the country to bring in this new era of gaming and entertainment. Thousands of people across the country headed out to collect their consoles at the stroke of midnight – that's a passion and dedication that we are continuously humbled by.
The biggest Xbox fans who had pre-ordered their console directly through Microsoft were able to pick them up at midnight. The first people in Australia to collect their Xbox One were Francis King and Angela Tran (pictured above), a couple who locked in their purchase with EB Games, Top Ryde almost two years ago! It was a great, festive night and it was particularly awesome to see all the different studios attend and play each other's titles. Check out the gallery below for more images from the night. And thanks to Xbox Australia for the invitation and what was an extremely fun time.