There isn't a great deal of time until the Attack On Titan Nintendo 3DS game, The Last Wings of Mankind, is released and it seems like almost every week we're given a new video or a new set of screenshots to scratch our Attack On Titan itch. Game developers, Spike Chunsoft, have just released a three and a half minute long introduction trailer for the game and this video pretty much covers it all, if you can ready Japanese than you have a better understanding of it than I do but, either way, it is pretty straight forward.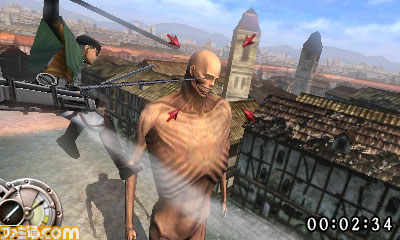 It basically goes over everything that we've seen up until this point but has placed it into one video though there is something within the footage that is new and that is the confirmation of the Female Titan as a Boss character. At about the half way mark you can see the player go up against her but don't rush to look for it just yet because below we have a few screenshots of the big babe straight from the game.
The video shows off the main Story Mode as well as the World Mode where you can take on special missions on your ow or with friends and is also the place where you can customise your soldier and his or her weapons, once again, much like we've seen in previous videos. Although, in this video, it has been stated that even 3D Manuever Gears can be changed once the character has reached certain level milestones, these other equipable weapons will make taking down Titans easier and faster and also adds another layer to the game.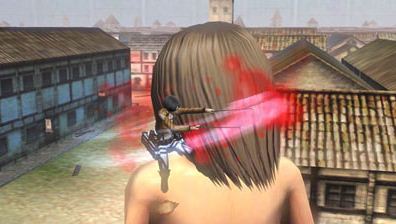 Attack On Titan: The Last Wings of Mankind is set for a Japanese release on the 5th of December 2013 and, despite not having any idea whether or not it is getting a release in the West, fans are extremely excited to see it and pray that it does indeed get a worldwide release. Head down to our Featured Video Section below to check out the full Introduction Video.