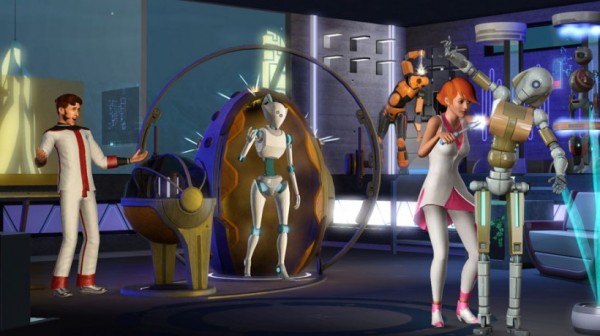 Your Sims are bound for a journey that no man has ever experienced… a trek into the future! Okay, that's not true because in the time it took me to write this, I have technically travelled about 7 seconds into the future… nonetheless, today, EA Maxis have released The Sims 3: Into the Future's launch trailer (which can be viewed embedded at the bottom of this article) and Limited Edition details.
A brave new world awaits, called Oasis Landing – sounds peaceful and serene. There's lots of fun to be had on this planet, from riding around on jetpacks and hovering wind carvers (what the hell are those?!) to exploring an all new career option in building your very own Plumbots! Players also dictate the future with their actions in the present, with three possible outcomes. And for those who pre-order the expansion, they will receive the Limited Edition upgrade, which includes the exclusive Quantum Power Pack featuring a hibernation chamber and multi-function power suit!
The Sims 3: Into the Future is rated M for Mature Audiences by the OFLC and will be available in retail stores and for digital download on Origin.com on October 24th, 2013. Check out first screens below, and our hands-on time with The Sims 4 at EB Games Expo 2013.