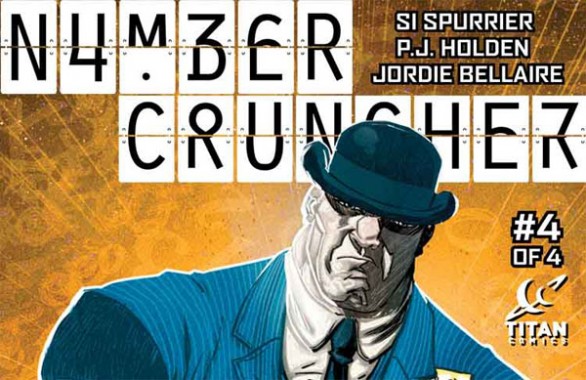 Numbercruncher #4, the conclusion to the epic mini series that is sweeping the world will soon be here, and the guys over at Titan Comics have given us a sneak preview of the book. If you don't know, Numbercruncher #4, written by Si Spurrier and with art from PJ Holden is the shock conclusion to the acclaimed temporal afterlife adventure. Here is the brief synopsis:
An epic battle of wits, wills and divine accountancy has twisted across decades and multiple lifetimes, and now the clash between Bastard Zane and the reincarnating Mathematician is coming to a head.

Who gets what they want? Who loses everything forever? And, when all the cunning plans and clever tricks have been resolved… is there still one last card to play?
If you have been reading Numbercruncher, then you don't want to miss out on this one, and if you haven't started then now is a good chance to go down to your local comic book store and grab issues #1-3. We also have some preview pages from the book, which you can check out below. Although Numbercruncher is coming to a close, Titan Comics just recently announced their 2014 lineup at this year's NYCC, so be sure to check it out and remember that for all the Titan Comics news as it becomes available, be sure to stay tuned to Capsule Computers.