What day is it again… is that really the time… why are the leaves outside my house changing colour…? OH CRAP THE FALL ANIME SEASON HAS BEGUN!!! I haven't even finished the shows from the summer line up (don't worry though I did manage to keep up with Free!). It has already been a week and the new waves of anime have begun airing, two of which will be in this post. It's better late than never and with that said let's take a look at Sanjay's fall anime picks:
---
Kyoukai no Kanata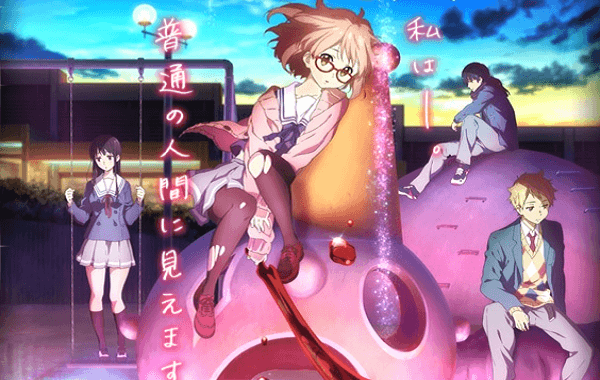 Also known as Beyond the Boundary; this show is an adaptation from a popular light novel series, both of which are produced by Kyoto Animation. The light novel itself earned and honourable mention in the Kyo-Ani Award competition in 2011 and began publication one year later, the third volume of which was just released two days ago (the same time as the anime).
I really enjoy the premise of this series; you have one girl (Mirai Kuriyama) who can manipulate her blood and a guy (Akihito Kanbara) who is immortal due to being half human- half Youmo.  Things start to get interesting after Akihito saves Mirai from jumping off the school rooftop, what happens after that is quite unexpected and makes for a very entertaining first episode. Good work Kyo-Ani, you did well with Hyouka and made me laugh with Free! I can't wait to see what you deliver with this one.
---
Coppelion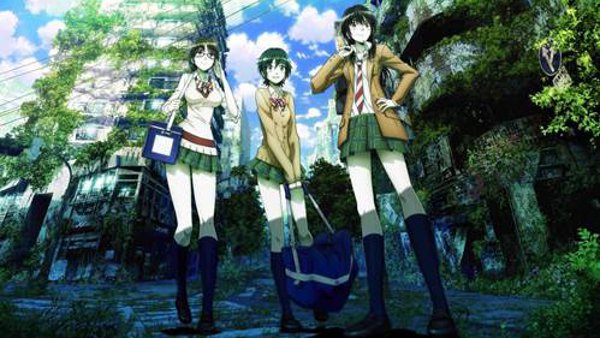 In a deserted wasteland known as Tokyo, three high school girls brave the vast, isolated and highly contaminated capitol searching for any signs of life. Hang on… if the city is highly contaminated then why are the girls only wearing their uniforms? Why is everyone else wearing hazmat suites and allowing these girls to be fully exposed?
The first ep is already out and it does explain the above queries, as well as introducing three likeable characters and ending with a surprising cliff hanger. I found the atmosphere in the anime to be superb and it's been a while since I've watched a sci-fi show. I expect more technical elements to show up during each episode, and more troubles for the three girls to face in this unique Seinen.
---
Samurai Flamenco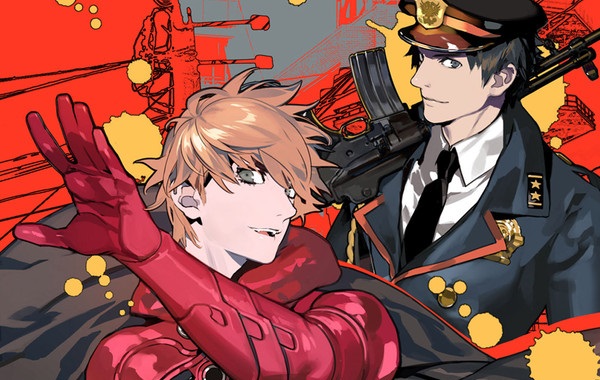 It always excites me when I find a series labelled as "anime original," without having to rely on any previous source material I am eager to see what these anime production companies can come up with.  A very colourful looking anime that does not aim to be too serious, the main character is a male model who becomes a super hero for crying out loud.
Putting this character next to a cop who doesn't have a strong sense of justice will only result in intense and exciting interactions between the two, the classic vigilante vs. authority scenario which shall be interesting. The anime wants to have humorous elements and dashes of serious drama in it, a mixture that if done correctly will deliver more than justice to its audience.
---
Little Busters! ~Refrain~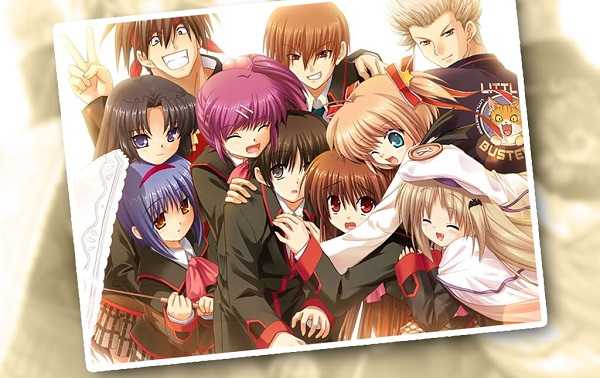 Okay first off I should say this up front… I do not play visual novels. I don't have anything against them; I just have never played one before. I say this because I know people will compare the first season of little busters with the visual novel and base their opinions off of that, I however have only seen the anime and thought it was good.
For those that are unaware the series revolves around a group of childhood friends who call themselves the Little Busters; the group decides to gather new members in order to play as a high school baseball team. The drama with each new member was intense and there was plenty of mystery to keep you wondering. Hopefully refrain will reveal some unanswered questions I had during the first season.
---
Phi Brain: Kami no Puzzle Season 3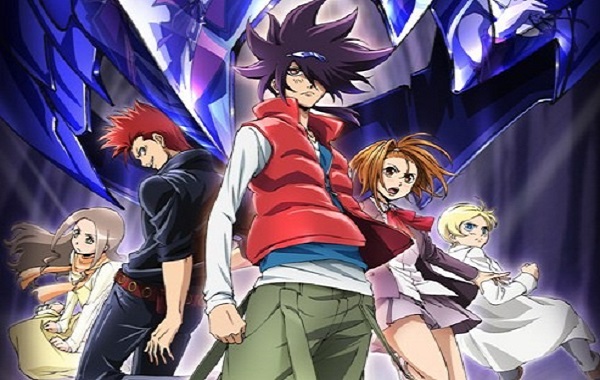 I really wasn't expecting this series to ever have a third season and much like Chitanda from Hyouka "I am curious."
The first season of this series was very unique; Daimon Kaito is a puzzle mastermind who has to solve various life threatening puzzles with a selected group of puzzle solvers. These solvers must fight the evil organization POG and as Kaito solves each puzzle he is one step closer to solving the Puzzle of God.
The second season was just more of the same; the antagonist was an old acquaintance of Kaitos who becomes evil for some reason which relates to puzzles, and Kaito must work with his friend in order to stop their evil plans. The first season had one childhood friend as the bad guy and the second had an entire group with the leader being connected to him.
This third season seems to revolve around a puzzle solver/ mentor that Kaito meet when he was a kid, if you haven't seen the previous two seasons then avoid this as you may be confused as to what was going on.  I don't know whether this will be good or not, but at the end of the day it is more Phi Brain which can't hurt to give a shot.
---
As it normally is there is a strong chance I will pick up more shows as the weeks go by. With this season I feel like a kid in an anime candy shop with all the variety there is to choose from.  Check out the other fall anime picks done by the awesome Capsule Crew and let us know what you will be watching by leaving comments down below.