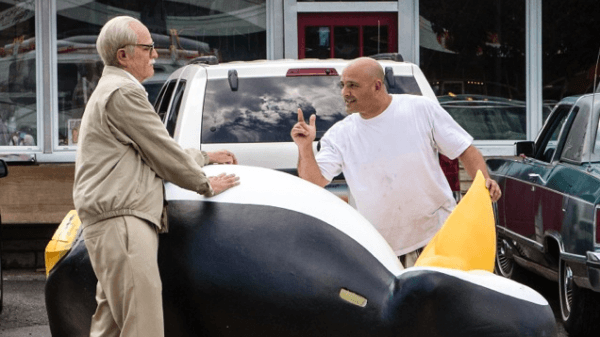 Paramount Pictures are proud to present another instalment from the highly anticipated comedy, Jackass Presents: Bad Grandpa, coming to cinemas worldwide on November 14. As recently revealed in the Redband Trailer, Jackass fans can expect an outrageous and hilarious performance from Johnny Knoxville and Jackson Nicoll -as the Bad Grandpa, Irving and young accomplice, Billy embark together on a wild road trip.
The featured 'Penguin' clip explores the extent to which a 'customer is always right'; as Irving challenges his rights to park in his driving spot, against the store owner's penguin statue. Not your average debate; "you put a penguin in my spot" vs. "you ran over the penguin", but it's hard not to laugh at Knoxville's effort to get away, without fixing the damaged penguin.
Prepare for more shocks, laughter and entertainment, when Jackass Presents: Bad Grandpa arrives next month!