Warner Bros. Interactive Entertainment and DC Entertainment have announced the Injustice: Gods Among Us Ultimate Edition for the PlayStation 4, PlayStation 3, PlayStation Vita, Xbox 360 and PC, coming to Australia on November 27th.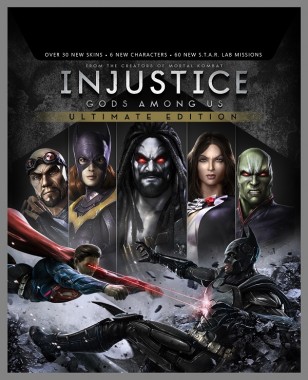 Injustice: Gods Among Us Ultimate Edition will prove the comprehensive edition coming with all DLC released to this point. Although not featured on the front of the key art, Mortal Kombat's Scorpion – re-imagined by Jim Lee, Co-Publisher at DC Entertainment – will be joining fellow fan favourites Lobo, Batgirl, General Zod, Martian Manhunter and Zatanna in the edition. Also included will be more than 40 extra character skins and 60 S.T.A.R. Labs Missions, now available from the start of the game. The U.S. version will come with the game's soundtrack, featuring an exclusive track from Jane's Addiction titled 'Another Soulmate' and 11 songs from popular artists ranging from Depeche Mode to AWOLNATION.
High Voltage will be remastering the title with next-gen technology, the PS4 version set to feature Touchpad functionality, video sharing and streaming, and the ability to link to players' PlayStation Network Feed page during match wrap-ups and pause menus. High Voltage are also bringing the PC version of the game to hungry fans. The PS Vita version is adapted for the handheld experience by Armature Studio, and will make use of touch controls for mini-games in the story mode and S.T.A.R. Labs Missions, Ad-hoc and Wi-Fi multiplayer and collectible hero cards. Here's what Jack Mathews, Technical Director and Co-Founder at Armature Studio, had to say;
When developing Injustice on Vita, our primary goal was to make sure it could hold its own next to its console counterpart. The PS3 version has beautiful lighting, destructible environments, and – most importantly – 60 FPS fighting. We worked tirelessly to bring this experience to the handheld, and pulled out all the stops to push the PS Vita as hard as we could to make all of the above happen.

In addition to all of this, we've included ad-hoc multiplayer, traditional multiplayer over wi-fi, and touch controls to Story Mode and various S.T.A.R. Labs Missions. Also, since this is the Ultimate Edition, the game will include all downloadable content that was released for the console edition. Our friends at NetherRealm Studios made such a wonderful game in Injustice: Gods Among Us, we're just happy to be able to use our experience on prior PS Vita projects to take what they did and spare no expense in creating a version of the game that allows people to play it on the go.