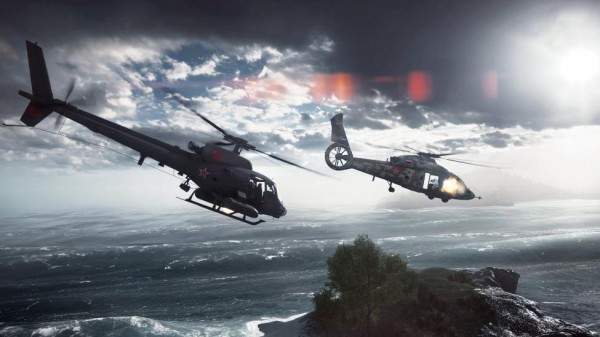 Battlefield 4 had one of the most consistently busy lines at EB Games Expo 2013, with FPS fans clamouring to get their hands on the multiplayer demo available at the show. At one point, the line was held up because One Direction apparently wanted to come through and try a round… although we actually never saw them. Not that I was waiting with baited breath or anything… ahem, well, moving on. We were able to cut in (VIP Quick-Pass, yeah, that's right) and play through a match on the Paracel Storm map – running on a PC with Xbox 360 controllers (don't hate me!).
Split into the United States Marine Corps and Russian Ground Forces, we engaged in the new Obliteration match-type. Officially revealed at Gamescom back in August, Obliteration tasks each team with simultaneously defending three M-COM stations whilst attempting to destroy the opposing team's with a bomb. After spawning, a notification alerts the players to the position of the bomb, of which there is only one at any given time. The bomb can be dropped, and when a station is successfully dismantled, its position resets and the scramble starts all over again. If neither team wipes out the other's stations, the winners are determined by highest team score at round's end.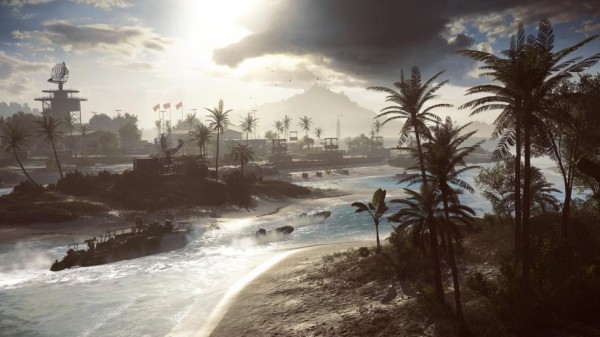 At first, we considered Paracel Storm an interesting choice for this kind of objective because it is quite wide open. There is one main island in the centre of the map with buildings and constructs for urban warfare, and seven or so smaller isles surrounding it. Jet-ski's provide the means for a quick escape – especially for the man with possession of the explosive – but there are so many angles and approaches to be aware of. And with each M-COM station based on a small isle, you literally have to defend 360 degrees around. This singular map embodies the original tagline of  'Land. Air. Sea', and in the end, is conducive to the cat and mouse style gameplay that Obliteration evolves into.
At the deploy screen, you have the necessary and expected options as it regards load-outs and initial set-up. You can spawn in on a fellow squad-mate, who may be riding a jet-ski, running, parachuting in or even piloting an attack chopper. In the case of finding yourself at the helm of a vehicle, you can easily switch among its various seats and functions at the press of a button. The game runs very smoothly at 60fps, and what was immediately noticeable was the perfect blending between animations for soldiers on-foot. Character models shift weight when turning and jumps do not look canned like in most first person-shooters. In-continuity with the Levolution system that's been introduced, there is a much higher level of destructibility on a more minute level, as well.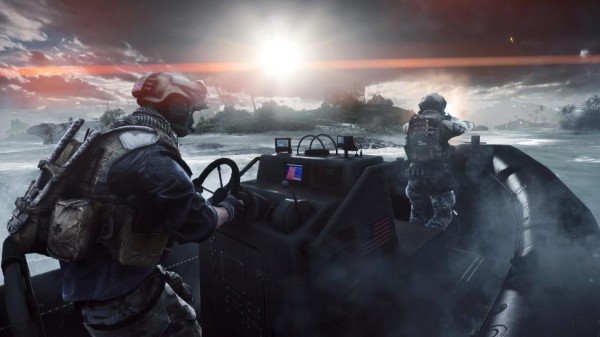 Speaking of Levolution, Paracel Storm features two key events that alter the landscape: a devastating tropical storm that affects vision and even mobility – so don't get caught in an amphibious vehicles when the waters get choppy – and a destroyer that actually changes the layout as it crashes into the Earth. Although we didn't experience the height of these set-pieces in our play-through, feedback from other players suggests that it is very effective (and you'll be able to find out for yourself as Paracel Storm is added to the open beta map list). A highlight of the match was shooting at an airborne Z-11W from an abandoned RCB-90's M134 Minigun, which was quite satisfying, and exemplary of the visual feedback you get when landing direct hits on aircrafts as it lit up with fiery FX.
Our time was brief, but the improvements since Battlefield 3 are clear. And with the promise of truly dynamic, changing arenas thanks to Levolution, Battlefield 4 should really live up to its namesake. It releases October 29th for the Xbox 360, PlayStation 3 and PC and at launch for the Xbox One and PlayStation 4 in November. In the meantime, check out our interview from the expo with DICE Creative Director Lars Gustavsson.