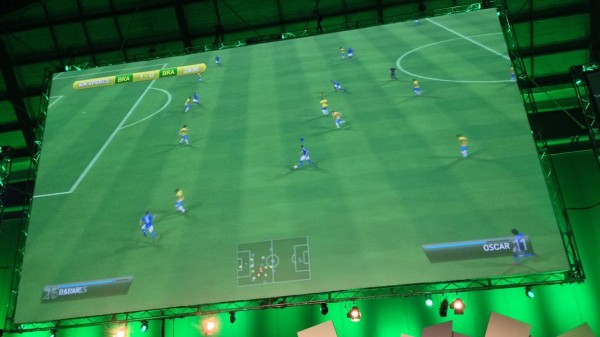 Back during September 25-26, EA Games Australia hosted heats for the FIFA 14 National Championship. Conducted at Hoyts Cinemas across the country, the final eight emerged and converged at EB Games Expo 2013 after winning economy class airfares to Sydney and one night's accommodation.
At the show, the semi-finals and finals were decided and then conducted on the final day of the expo. So, what was up for grabs? The ultimate winner would go on to earn the title of Australia's EA SPORTS National FIFA 14 Champion, $3,000 in the form of a giant novelty check, a FIFA 14 and EA SPORTS Football Club Official Wired Controller and a huge trophy that kicks-balls! Soccer balls… I could have avoided that…. The runner-up also received the controller and a miniature version of said trophy. The festivities' hosts were Jeremy 'Junglist' Ray of former 'Good Game' fame and currently the Telstra BigPond GameArena webshow '5-inch Floppy', and David Basheer, host of 'The World Game' on SBS.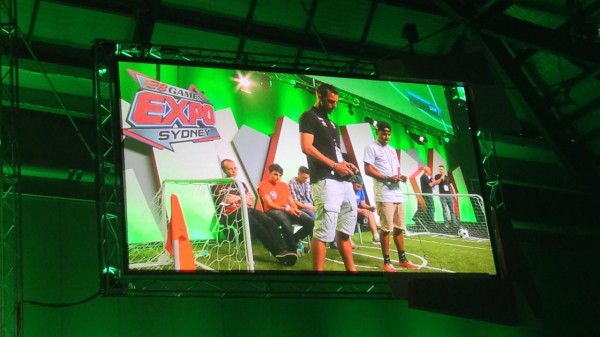 A couple of our four semi-finalists may be familiar to those on the circuit: Kieran 'Muzza' Murray, Matt Russell, Steven Currie and 'Humpty'… I just like the idea of simply calling him 'Humpty'. The semi-final match-ups were determined by a classic draw from a hat. First up was 'Scurrie', as Junglist Christened him, and Matt Russell. Each game was contested under 6 minute halves, with no substitutions allowed unless a player is injured – and not in the case of those pansy bandage icon injuries… we're talking 'health cross' injury. Both sides chose to select Brazil as their team, but it was 'Scurrie' who came out victorious with a beautiful finish by Ramires from the masterful lob through-ball pass by Alves at the 13 minute mark.
Next, 'Muzza' played 'Humpty' to another 1-0 result, as another mirror match – this time in Germany vs Germany – ended with Klose completing a fantastic header from the corner for 'Humpty'. Before finding out who will reign supreme, David and 'Junglist' took a break from commentary to introduce special guests: striker Tahj Minniecon and goalkeeper Jerrad Tyson from the Western Sydney Wanderers. The two briefly answered questions on the A-League, and their experience with the FIFA video game series. When asked what it is like playing under coach Tony Popovic, Jerrad stated; "It hurts!". The two then went on to prove their prowess in football, not just on the pitch, but in-game, although Tahj's Arsenal dismantled Jerrad's Bayern Munich 2-0. Guess his skills as a goalie don't translate?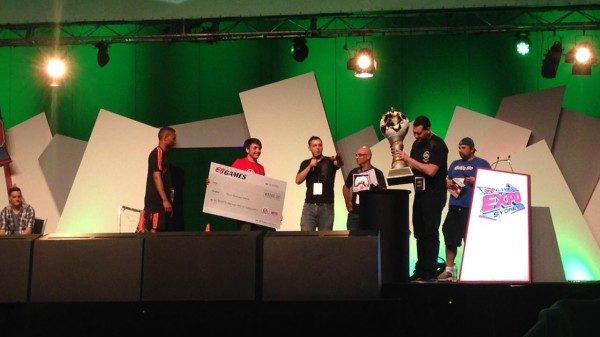 And finally, the much anticipated final had arrived. Keeping their originally selected teams, 'Scurrie' and 'Humpty' engaged in a greatly competitive match… for the first half; Klose with a finesse shot at 19′ and Hulk responding at 42′ with a stunning header. But then, 'Humpty's' Germany ran away with it, as Klose scored a hat trick after an amazing diving header at 50′ and the culmination of an immensely skillful build-up at 88′. Then, for the icing on the proverbial cake, Ozil strikes for goal at literally the last minute! Humpty goes home with the spoils and an impressive 4-1 win against a long time veteran of the franchise.
FIFA is one of those games that is actually enjoyable to watch, and these guys put on a clinic. Congratulations to all the contestants for a magnificent effort!