South Korean developer and publisher Joymax has launched a new promotion in celebration of their popular MMORPG Digimon Masters recently reaching its 2nd anniversary.
The 'Fall with Friends' promotion entices potential adopters to join the game and its community by offering digital gifts, bonuses and rewards to supplement their experience online. Gamers have until the 26th of November to register for an account and receive these bonuses. They are as follows:

Once a player creates their new Tamer, check out the DATS Center for your gifts!

Level 1: ExpBooster+60% (30days)
Level 10: Inventory Expansion (7), Warehouse Expansion (7), DigimonArchive Expansion
Level 15: Imperial DigiEgg (Event), Amplification Booster +100% (10), Music-Playing Headphones (7days), Red Sports Sneakers (7days)
Level 20: Evoluter (3), Amplification Booster +200% (10), Red Star Hoodie (7days), Military Short Pants (7days)
Level 25: Evoluter (6), DigimonArchive Expansion, Premium EXP (7days), White Power Gloves (7days)
Level 30: Digiclone[A] (20), Digiclone[B] (20), Backup Disk (10), Fruit of Goddess (10)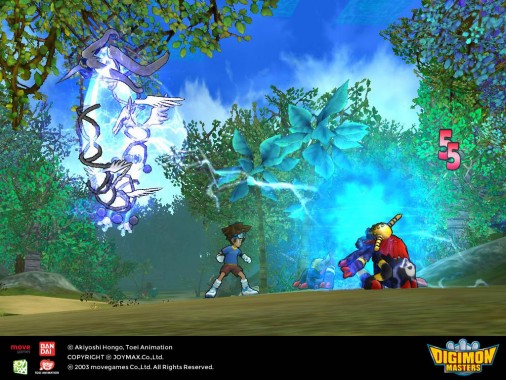 When the new Tamer reaches landmark levels, both the new recruit and the veteran Tamer will receive a bevy of rewards!

Level 5
New Player: Expansion Package
Veteran: Fruit Of The Goddess
Level 10
New Player: Mystery Mercenary DigiEgg, Evoluter (3), ExpBooster 60% (7days)
Veteran: Evoluter, Amplification Booster 200% (3)
Level 20
New Player: Mystery reinforced Mercenary DigiEgg, Evoluter x5, Premium EXP (7Days)
Veteran: Evoluter, Amplification Booster 300% (3), Premium EXP (7Days)
Level 30 must be attained no later than promotion's end in order to acquire the full spectrum of rewards. Veterans of the title are also receiving a little something extra, with two new dungeons now available to explore – "are you up for challenging the Crack of Devimon, and are your Digimon brave enough to delve into the Secret Ancient Ruins?" Fans can find everything and anything about Digimon Masters Online on the official Facebook page.