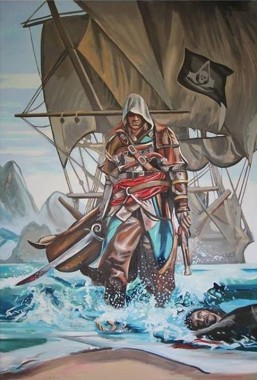 At the EB Games Expo 2013, artist Garry Donnellan was stationed outside the Ubisoft Australia booth, busy at work on a huge canvas painting of Edward Kenway from Assassin's Creed IV: Black Flag.
Made for the purpose of auctioning off – with all proceeds going to the Starlight Children's Foundation Australia – the artwork came to life over the 3-day period. And now, with the show behind us and the masterpiece complete, the auction is live on Ebay.
The auction will run until 8pm on Tuesday, October 29 – Assassin's Creed IV: Black Flag's recently pushed forward launch date – with the current bid already surpassing a grand! Check out the bidding here.
A time lapse video which shows the painting being created at the EB Expo can also be seen below embedded below.