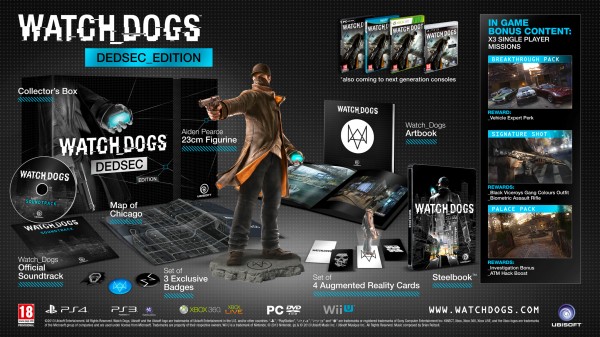 Ubisoft has just released a video showing the "unboxing" of the Watch_Dogs DedSec Edition, it's not really an unboxing though as we don't get to see someone pull all the stuff from the retail itself. However, the video does give a nice look at and preview of just what each piece of the DedSec Edition provides.
The DedSec Edition does look like the pretty definitive version for those ready to jump on the Watch_Dogs bandwagon and embrace it entirely. With the statue, soundtrack, badges, map, cards, and books included in the version it seems like a fairly sizable bundle, plus what they show of bonus game content looks pretty interesting for those wanting to get all of those special perks in the game.
Watch the DedSec Edition unboxing for yourself embedded below to get a better look at all the different pieces. Watch_Dogs is set to release at the end of November for Xbox 360, PS3, Wii U, Xbox One, PS4, and PC.